Joe Mangianello is very close-lipped about The Batman. Some Marvel concept has been revealed to the world at large. And news about when Misha Collins will return to Supernatural. Spoilers ahead!
Blade Runner 2049
In an interview with Collider, Denis Villeneuve confirmed there will be no narration in the film.
That's a joke I made with Harrison Ford when he came to do his ADR: I gave him a narration. No, there's no narration. It's not something that would have been welcome and the movie doesn't need one. It was not a part of the project, no, but we were making jokes about that. It would've been a strange thing to see the fans' face if the movie had started with a narration, a voiceover.
---
Tucker and Dale vs. Evil 2
During a roundtable interview at San Diego Comic-Con, Alan Tudyk and Tyler Labine revealed the reason the sequel's been put on hold— mainly, the script just wasn't very good.
Alan Tudyk: This is my answer for that, I'm sure you have one as well. We had announced, officially, Tucker and Dale 2, they hired somebody to write the script, and it wasn't any good. That's rude to the person who wrote it; I don't know who it was.
Tyler Labine: No, no, no, they deserve to be spanked.

Alan Tudyk: Did you get a chance to read it?

Tyler Labine: No, but I heard the synopsis behind it, and the general reaction from Eli [Craig] was, 'No fucking way.'

Alan Tudyk: We don't want to ruin the first one by doing a crappy second one. That isn't usually the rule in Hollywood, but I'm glad we're following that path.

Tyler Labine: The only thing that movie really has going for it is its integrity. It was not a huge release, it was not a big money maker. It's a long, slow grind on its way to becoming a cult favorite — who knows. So then to go and do a weird, money-grabby sequel, just seems like a bad idea.

Alan Tudyk: They're great characters, and we'd love to do them again. If I could figure out how to write the sequel, I would.

Tyler Labine: It's hard, though! That's the thing. You can't even blame that writer. It's hard to make a sequel to that movie because of the joke. It's done! We told the joke! And if you do the same thing again... maybe it's just better. That being said, we'd love to do something!
G/O Media may get a commission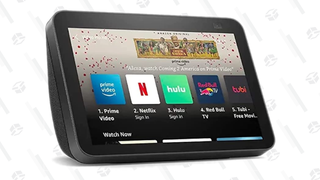 ---
The Batman
Joe Mangianello refused to talk about Deathstroke when THR asked if he had any information on the character appearing in Matt Reeves version of the film.
I don't. Well, I do but nothing that I can share. I know everything but I can't say any of it.
---
Justice League
As it happens, the film's official fan page shared an image of Batman's updated cowl on Twitter.
---
Han Solo
Emilia Clarke shared a video of herself monkeying around with Chewbacca on Instagram.
---
It
After a set visit, Bloody-Disgusting can confirm Pennywise does not transform into a giant spider at any point in the film—though he does shapeshift into a scabrous leper portrayed by actor Javier Botet for a scene. Maturin the Turtle, a key figure in the Dark Tower mythos, also does not appear, but an Easter egg alludes to his presence.
---
Avengers: Infinity War
Josh Brolin has headed back to the set for more Thanos-related reshoots.
---
Captain Marvel
Concept art of the Skrulls revealed at San Diego Comic Con has surfaced online.
---
Supernatural
Jensen Ackles revealed at San Diego Comic-Con that Misha Collins is returning:
It'll be very Scooby-Doo-esque. Just a little slightly darker version of Scooby-Doo, but I will say that when we went in and did the recording, it was Jared [Padalecki], myself, and Misha. We recorded, we put cameras and there were GoPros all over. All of that will be on special features, but we were like vibrating we were so excited about it. We were so thrilled, and the whole process of doing the dialogue, we were having a scene. It's ridiculously funny.
---
Future Man
Set Rogen spoke to /Film about his upcoming time travel series for Hulu.
Pretty much any science fiction movie from the last 35 years has influenced the show. Terminator 2, Back to the Future, there's Children of Men in there, Quantum Leap. We very much want the show to exist in a world where all those movies are real, and how that knowledge might affect your decision making when you're put in situations.

To us, the idea of a half hour comedy that was heavily plot driven was something unique in what can only be described as a crowded marketplace. Again, we basically try to model the things we make off the things we ourselves enjoy ingesting. When something is plot driven, I personally like to watch it in big chunks. I like ingesting TV series that have cliffhanger episodes. It's nice to have the next episode available. Who wants to wait? The world could end. The idea of having a serialized comedy that had a lot of plot and story to it coming out in one big chunk was an exciting prospect.
---
Gotham
Gotham returns to television September 21st as the lead-in to Seth McFarlane's sci-fi series, The Orville, according to Spoiler TV.
---
The Defenders
During a round table interview at San Diego Comic Con, Sigourney Weaver stated she sees her character Alexandra as a "heroine."
I was doing an interview earlier and I kept referring to her as a heroine, which to me is like another word for woman character. I said I think she does feel it in her story like she's a heroine, because she doesn't see things as black and white. She sees all the different colors and possibilities because she's in business. And I don't think businesspeople, especially on her scale, care about these niceties of things. If it's a fossil fuel company, they want to just keep going, regardless of all these people whimpering about the earth. So I based her on real people I know who think like that.
---
The Gifted
Stan Lee stopped by the set for a photo with the cast.
---
Supergirl
David Harewood revealed to Comic Book the new season begins just "minutes" after the end of season two.
It's the start of another long season, and I think that lots of stories are going to unfold as we go on. Season 3 picks up minutes later, just after season 2 ended, so you don't have this whole enormous leap you're going to have to make. I think we're all about to go on another season's long crazy journey.
---
Arrow
Episode 6x03 is titled, "Next of Kin", according to STVPlus.
In related news, Katie Cassidy stated in an interview with Comic Book that season six will explore Black Siren's relationship with the deceased Oliver Queen of Earth-2.
Yes, I think the more we learn about her backstory and what her relationship was like with Oliver, absolutely. I think it will make sense in the end and not necessarily make her as bad of a person. You might be like "Oh, okay that makes sense." Yes, I do think we'll know more.
---
The Flash
Episodes 4x02 and 4x03 are titled, "Mixed Signals" and "Luck Be a Lady", respectively.
[STVPlus]
---
The 100
The season five premiere is titled, "Eden".
[STVPlus]
---
Preacher
Here's an interview with the cast where Dominic Cooper reveals "without realizing, we've already met" the show's version of God—and that "something is revealed at the end [of the season] that is so dramatically important, it reveals…the reason behind everything."
---
Rick and Morty
To celebrate the new season, more Rick & Morty-related antics have been posted to Youtube—including a Ghostbusters parody, a new short and an interview with storyboard artist Erica Hayes.
Finally, here's the live streamed aftershow trailing last night's premiere episode.
---
Banner art by Jim Cooke.