Blade Runner director Ridley Scott announced his commercials company, RSA Films, has launched a new division to make Purefold, a webseries set in the Blade Runner universe. And this time around, you'll get to help decide who is and isn't a replicant.
Scott, along with his brother Tony and son Luke, are teaming up with the independent studio Ag8 to produce Purefold. Ag8 previously produced the British web series Where Are The Joneses?, which asked viewers to write and submit the further adventures of the title characters. Purefold will use a similarly interactive format, as it unfolds in five to ten minute shorts driven by reader input culled from the social aggregator site FriendFeed. Although the series will debut on the web, there is some hope it will ultimately make its way to television.
Purefold will take place in the time before Blade Runner's 2019 setting. The producers apparently aren't too concerned about the short span of time between now and the highly advanced future depicted in the film, what with its replicants, flying cars, monolithic architecture, and implied interstellar colonization. In fact,according to Ag8 founding partner David Bausola, the first episodes of Purefold will likely take place in 2011. Of course, setting the action only a couple years from now is one way to avoid having to show those flying cars and crazy buildings on a web series's budget.
The producers of Purefold don't have the rights to Philip K. Dick's original novel, Do Androids Dream Of Electric Sheep?, which provided the basis for Ridley Scott's film. As such, the series definitely won't be featuring any of Blade Runner's characters or specific situations, although I'm still holding out hope we'll finally get to see what's so damn unbelievable about attack ships on fire off the shoulder of Orion. Or C-beams glittering in the dark near the Tannhauser Gate, for that matter.
What Purefold definitely will have, however, is product placement, as RSA Films is bringing in a number of advertising and marketing agencies to help secure funding for the project. Considering what happened to companies that had their logos prominently featured in the original film, such as Bell, Pan Am, and Atari - they all went bust - I'm not sure if that's really a good idea.
G/O Media may get a commission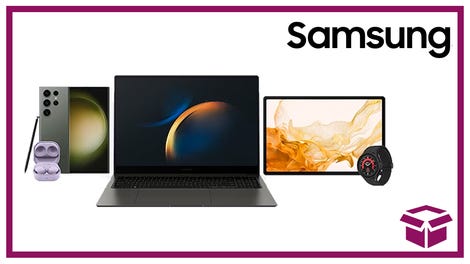 24 hour deals
Discover Samsung - Daily Deal
As much as this all sounds a bit bizarre, there is one aspect of Purefold to be unreservedly excited about. Ridley Scott has said he will be releasing the series under the Creative Commons license, meaning anyone can repurpose, remix, and even rerelease the episodes as they see fit. Scott is the first major Hollywood director to embrace Creative Commons in this way. So, even if Purefold is ultimately just a forgettable oddity, it might be the start of something much bigger.