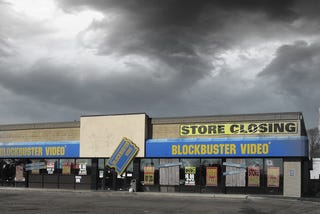 Shed a few tears over Blockbuster's demise? You're not alone. But don't worry, there is a glimmer of hope for your local store, with their CEO promising that if it performs well, it might just stay open.
Basically, if you and your neighbors have been loyal to Blockbuster over the years, there's a chance they'll recognize the branch performs well and might keep it as one of their few successful stores.
CEO James Keyes said "we'll literally be evaluating every single store." Up until the end of August, they apparently had 3,300 stores across the States, but it's said they will have to shed between 500 - 1,300 at least to have a chance at making money again.
In case there are any number-crunchers out there interested in the level of troubles Blockbuster has been facing, they declared $1.46 billion in debt yesterday, with $1.02 billion in assets. [Bloomberg]