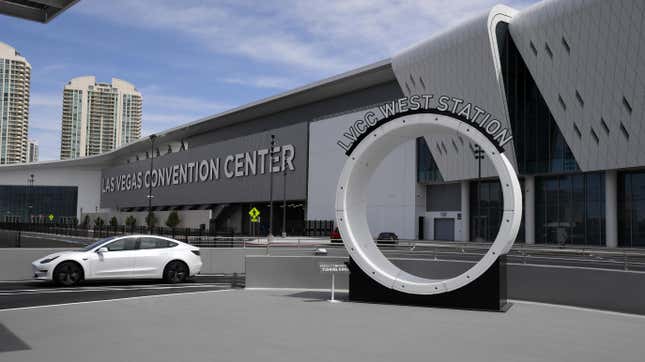 Las Vegas city officials have approved The Boring Company's request to expand its planned network of underground tunnels. The Las Vegas Loop will now feature a total of 69 stations and 65 miles, or 104 kilometers, of tunnels.

The Mississippi River is Drying Out | Extreme Earth
The Boring Company tweeted the news yesterday evening, following a meeting with the Clarke County Zoning Commission yesterday morning. The Las Vegas Loop was set to feature a combined 34 miles, or 55 kilometers, of tunnels and had stations that predominantly ran along the Las Vegas Strip. The Boring Company then asked in March to expand the Las Vegas loop, with the newly approved expansion adding 18 new stations and about 25 miles, 40 kilometers, of additional tunnels, according to a tweet from the county's official account yesterday.
"This is a 100% developer funded project that will reduce traffic trips from our surface street public roadways, it will provide folks another easy and convenient alternative to get around, and as part of our revenue sharing agreement with the Boring Company, they will end up paying the City for use of our right of way," Las Vegas Executive Director of Infrastructure Mike Janssen told Gizmodo in an email. "So, I am excited to see the project continue to grow."
Attorney Stephanie Allen, representing the Boring Company, told county commissioners at yesterday's meeting that the Las Vegas loop currently has 2.2 miles constructed with 5 operational stops—four at the Las Vegas Convention Center and one at Resorts World. Allen further told commissioners that 1 million passengers have ridden through the network so far, with peak ridership in one day reaching over 32,000.
"The more opportunities we have on this map, the more opportunities for success with this system," Allen said during the meeting.
Musk's been overly optimistic about creating a "Hyperloop" tunnel system that will apparently be "immune to surface weather conditions." He first made his pitch back in 2013 and it's been a rather slow rollout. The Boring Company unveiled the planned Vegas Loop project in October 2021—originally slated to be only 29 miles (47 kilometers) long. The company's agreement with Las Vegas is long-lasting but nonexclusive, meaning any other monorail from any other transportation body can be built in Las Vegas for the next 50 years.
The Boring Company opened a pilot tunnel at the Las Vegas Convention Center that made a 25-minute walk across the campus a 2-minute ride. While that efficiency is impressive, riders who tested the tunnel at the Consumer Electronics Show in January 2022 were left unimpressed. Electrek reported that vehicles only cruised at 35 miles per hour, instead of the roaring 150 miles per hour that the company has touted. Further, videos and tweets compiled by Mashable and originally posted by those using the tunnels at the trade show depicted a claustrophobic (and absolutely anxiety-inducing) traffic jam in the narrow tunnel.
Update May 4 12:07 p.m. EST: This article was updated to include comment from Las Vegas Executive Director of Infrastructure Mike Janssen.