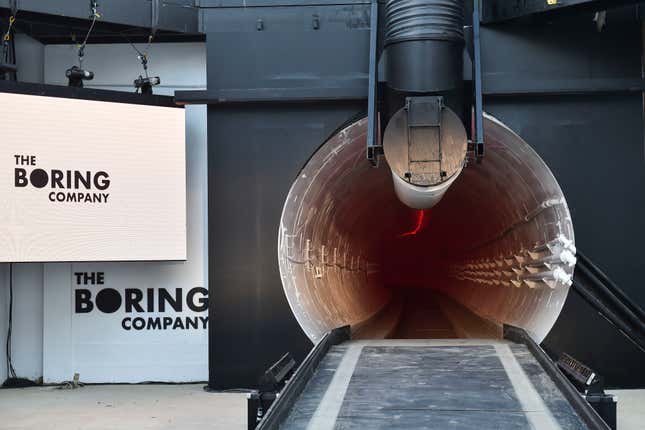 After Elon Musk's Boring Company received approval to construct one-lane tunnels in the bowels of Las Vegas last year, the company has recently submitted plans for an expansion that will bring a total of 65 miles (105 kilometers) of criss-crossing tunnels beneath the Nevada city.

Mr. Tweet Fumbles Super Bowl Tweet
According to TechCrunch, Boring Company recently submitted a new map of the Las Vegas tunnels to the city government for approval last month. The originally approved Vegas Loop ran a combined 34 miles (55 kilometers) and had stations that predominantly ran along the Las Vegas Strip. This new proposal would double the size of the loop, bringing the total network of tunnels to an estimated 65 miles (105 kilometers) long with an additional 28 stations that primarily include stops at the University of Las Vegas Nevada.
Las Vegas Executive Director of Infrastructure Mike Janssen did not immediately return Gizmodo's request for comment on the submission.
Musk's been overly optimistic about creating a "Hyperloop" tunnel system that will apparently be "immune to surface weather conditions." He first made his pitch back in 2013 and it's been a rather slow roll out. The Boring Company first received a permit in December 2020 to begin the Vegas Loop project. In October 2021, the company received approval for the first version of the loop, which was originally slated to be only 29 miles (47 kilometers) long. The purpose of last year's hearing was to approve the updated Monorail Agreement (The Boring Company calls their tunnels "monorail tunnels"), and the agreement is nonexclusive, meaning any other monorail from any other transportation body can be built in Las Vegas for the next 50 years.
The Boring Company opened a pilot tunnel at the Las Vegas Convention Center that made a 25 minute walk across the campus a 2 minute ride. While that efficiency is impressive, riders that got to test out the tunnel at the Consumer Electronics Show in January 2022 were left unimpressed. Electrek reported that vehicles only cruised at 35 miles per hour, instead of the roaring 150 miles per hour that the company has discussed. Further, videos and tweets compiled by Mashable and originally posted by those using the tunnels at the trade show depicted a claustrophobic (and absolutely anxiety-inducing) traffic jam in the narrow tunnel.
Last year we learned that the original site of the prototype for Musk's futuristic subway system was transformed into a parking lot for SpaceX employees. And while for some, that signaled the beginning of the end for Musk's slow-speed Tesla tunnels, it appears the Boring Company's still moving forward with plans to create what could just be a train.