While it's undeniable that tech played a major part in helping hunt down the two Boston bombing suspects, it certainly wasn't facial recognition that helped. Boston Police have admitted that their facial recognition system "did not identify" the suspects.
Speaking to the Washington Post, Boston Police Commissioner Edward Davis explained:
"The technology came up empty even though both Tsarnaevs' images exist in official databases: Dzhokhar had a Massachusetts driver's license; the brothers had legally immigrated; and Tamerlan had been the subject of some FBI investigation."
Instead, the FBI were faced with a rather more boring task—and one agent watched the same segment of video 400 times. Four. Hundred. Times. Over time, watching and re-watching video allowed them to "build a narrative out of a random jumble of pictures from thousands of different phones and cameras", according to the Post.
The official line on the Reddit contributions to the investigation is interesting, too: the Post reports that "in addition to being almost universally wrong, the theories developed via social media complicated the official investigation, according to law enforcement officials". Indeed, the official release of suspect photos on Thursday was an attempt to limit damage being done by internet theories. Clearly, sometimes the old-fashioned techniques work best. [Washington Post via Ars Technica]
G/O Media may get a commission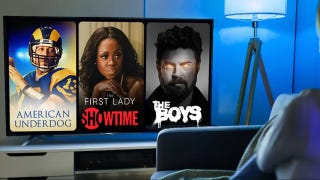 UNDER $1
99¢ Prime Video Channels