This image was posted on BP's main website until yesterday. Look at all of those people working so hard to stem the oil disaster! Now look a little closer. Now be appalled that it's egregiously—and very poorly—photoshopped. UPDATED:
Americablog first caught the deception, which wasn't terribly hard to catch given what a sloppy job BP did. For the most part, it seems as though images of the current tragedy were cut and pasted on top of blank screens:
Yeesh. And just for fun, here's a whole slew of terrible 'shopping from the main photo:
And as if all that weren't bad enough, the file's metadata suggests the original shot was taken way back 2001:

So what happened here, exactly? According to the Washington Post:
Scott Dean, a spokesman for BP, said that there was nothing sinister in the photo alteration and provided the original unaltered version. He said that a photographer working for the company had inserted the three images in spots where the video screens were blank.
G/O Media may get a commission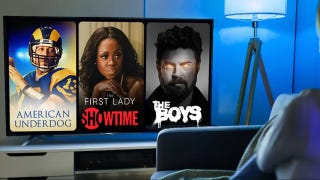 UNDER $1
99¢ Prime Video Channels
The idea that a "professional" could have done such a sloppy job is laughable on its face. And BP's posting of what they say is the undoctored photo does nothing to explain the metadata.
More to the point though: really, BP? You don't have an active enough crisis command center as it is? I know public relations are the most important thing you've got to worry about right now, but honestly this is pathetic.
UPDATE: BP has acknowledged that they manipulated the image and has posted the original here. [Americablog via Geekosystem]