See a video of The Amazing Spider-Man's mechanical web-shooters in action. Find out which queen we'll be meeting on Doctor Who this year. And learn which show is casting Chloe Sevigny as a character named "Shelly the Nymphomaniac." Plus celebrate the Fringe Season five renewal with spoilers!
Speaking of which, spoilers below...
Top image from Fringe.
The Avengers
The Avengers press team is heading into the home stretch, which means the next seven days will be nothing but reviews, interviews and spoilers. Let's jump in, shall we?
Chris Evans (Captain America) was interviewed by The Washington Post and shared his first on set moment with Robert Downey Jr. and Chris Hemsworth:
I remember coming to set and seeing both of them suited up and just thinking, I think my initial thought was, 'God, I wish I could work with those guys,'" he said. "And the immediate afterthought was, '(Expletive) I am! I am! I'm in a suit too! I can't believe this!' So that was a really nice geek moment for me."
G/O Media may get a commission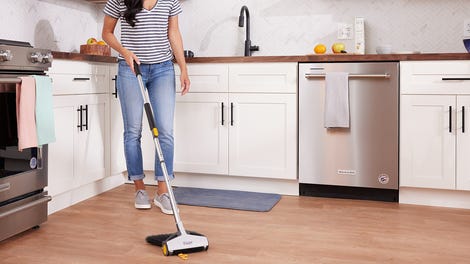 BOGO 50% Off
Flippr - BOGO 50% Off
He also credits RDJ with the entire Avengers franchise:
"If Iron Man had not done well, obviously we would not be doing these movies. He's like the matriarch. He's the dad. If he would have come to set with a different attitude or certain disposition, the fish could rot from the head down."
The whole cast had a backstage roundtable with Entertainment Weekly, which has a teaser of next week's cover article up online. (Yes, it's an article teaser for an article that teases a movie. We're down the rabbit hole, folks.) Samuel L. Jackson revealed who Nick Fury isn't based on: Nick Fury. According to the article,
Jackson said he watched the notorious 1998 B-movie Nick Fury: Agent of S.H.I.E.L.D. "and decided I was not going to do any of that."
More backstage shenanigans and a video at the link. [Entertainment Weekly]
Slashfilm recently chatted with producer Kevin Feige about the film. He describes how they work out the connections between the individual superhero films and The Avengers while keeping it newcomer friendly:
"I won't say there's a master board that somebody can break into a room and look at, but we have that stuff and a lot of it is, because again the most important thing is that the movies work on their own… You have to be able to just watch one and understand it and think it's cool. So that's what the writer, the director, the cast at the time is all tasked with. As those storylines are coming together, I'll usually keep a tally of "Oh, we could use that later" or "We could bring that to the forefront" and they'll go "What?" I'll go, "No, nothing. That's good for this movie." And then some times you know I'd say half of those work and half of those just end up not, where those dots don't connect or there's no reason to connect them or we have to bend one or the other movies too far to connect them, then it's not worth it."
There's more at the link, [/Film]
Coming Soon has, not one, but two half-hour long press conference videos. [ Coming Soon]
Here's a ridiculously spoilery review. Read at your own risk. [Comic Book Movie]
---
Iron Man 3
When asked how science-fictional things will going to get with The Avengers, Feige gave a response that might hint at how the next Iron Man sequel will build on it:
"That's where a lot of that will really come to fruition and to me it's okay and AVENGERS is the place to mash it all up, because that's what Avengers is for and you can have Iron Man in outer space. How's that going to affect him in IRON MAN 3 or 4? Well the truth is that's in there now. (Laughs) He's seen some shit, but he's also Tony Stark and can blow a lot of stuff off, so the story of IRON MAN 3, as we've already talked about, is very insular and very Tony Stark centric as redefined by Shane Black."
[/Film]
---
Star Trek 2
Benedict Cumberbatch says he was asked for an audition tape, to send to JJ Abrams during the Christmas holiday. With all the London casting directors on vacation, he ended up recording his audition on his iPhone in his friend's kitchen. While "strung-out," which I'm guessing means something different in England. And he confirms, perhaps for the first time, that he's playing a quasi-villain. [New York Times]
---
The Amazing Spider-Man
The Associated Press got a look at some footage at Cinema Con (though it's not clear if they saw a trailer or a longer sizzle reel). It sounds like Spider-Man, with plenty of angst about girls and family and Parker-esque quips. But also skateboarding.
" The superhero flick has cars flying off bridges, [Emma] Stone and [Andrew] Garfield locking lips, and moral warnings about choice and responsibility."
Web shooters! Here's a video of the once-again-mechanical-devices in action.

And check out these pictures from the viral campaign. [Coming Soon]
---
Dark Shadows
Film School Rejects recently interviewed noted Jane Austen collaborator Seth Grahame-Smith about Dark Shadows and Abraham Lincoln: Vampire Hunter. When they mentioned that Tim Burton had trouble assigning Dark Shadows a genre, Grahame-Smith said,
"I call it soap-operatic, which mean all emotions are dialed up to 11, whether it's the weepy dramatic moments or fish-out-of-water Barnabas moments. Everything is heightened and fun. Look, it's 1972, which is the first time we get to see Tim Burton take on 1972, but it's still everything the series was too: Gothic, dark, multi-layered, and an ensemble."
He also tried to assure the fans of the original show that though the film is modernized, it still pays tribute to its source material:
"Even from the music to Danny Elfman's score to the imagery to the costume design, there's so much tribute in the movie. It's also an update, though. We could've remade House of Dark Shadows or Night of Dark Shadows, and just committed 100% to a dark and brooding tone throughout, but that movie is not for a lot of people these days; it's not something I would've had as much fun participating in. I've never worked on anything of this scope and size before. When we were making the movie I would just wander around Pinewood, and just look at the backlot where we built the entire town of Collinsport, the harbor, and the boats floating on a fake ocean in the middle of nowhere, all these incredibly detailed sets. For me, it was amazing how detail and love went into this film. I think people will get the film."
There's more at the link. [Film School Rejects]
---
Abraham Lincoln: Vampire Hunter
In the same interview, Grahame-Smith gets into the nitty-gritty of adapting his own book for the film. Since the book lacked a main bad guy, they had to invent one, along with some other things.
"This was really problematic when trying to shape the movie without a villain, so we realized we needed a villain and we invented Adam, Rufus Sewell's character. It is an adaptation, but there's parts of it that are so drastically different. Like, the whole third act culminates into this fantastic, amazing train chase. You know, obviously that's invented from scratch. Anthony Mackie's character was invented from scratch, and I think the book would've been better if it had an Anthony Mackie character. It's interesting because it's a completely different type of challenge. I didn't know who I was writing for, so I just wrote Abe as I'd written him in the book. We were lucky enough to get Ben Walker, who just became this character. If you didn't have an actor like that, you'd be dead with Abraham Lincoln: Vampire Hunter. With Dark Shadows, it was much more of a free form kind of exercise. With Lincoln, you were bound by beats of the book, but you also had to invent whole passages and make everything work together."
---
Snow White and the Huntsman
Here's the new Japanese trailer.

---
Brave
When I hear NFL Draft, I think 'time to pitch a princess movie.' Well I don't, but Disney did. Here's the spot that will air during the draft. [Coming Soon]
---
Frankenweenie
Tim Burton recently spoke to MTV News about the film. He said,
"It follows pretty much the 'Frankenstein' story. But I guess this version you could probably relate it more to those movies like 'House of Frankenstein' or 'House of Dracula' where they kind of throw in a bunch of other monsters. Also, I was very interested in just remembering school and the kind of politics with the other kids and the weirdness, how weird kids can be and just sort of exploring that classroom vibe." Of those other monsters he mentioned, Burton said, "I tried to base them on a couple of my kids' pets, other pets that I've known and had, and have come and gone."
You can watch the interview at the link. [MTV]
---
The Reawakening
Speaking of Frankenstein, Radio Silence is planning a found footage take on Frankenstein's Monster, with a script by Luke Dawson. We're assuming this will be set no earlier than 1895, when the Lumiere brothers invented the moving picture camera. [IGN]
---
Skyfall
Here's a review of the trailer which premiered at Cinema Con.
"From beginning to end the trailer was impressive and had a very slick look to it that we don't typically see from Mendes' movies. While it all came in flashes, the movie looks like it is very action packed and tense."
For a shot-by-slick-shot breakdown, follow the link. [Cinema Blend]
---
Bond 24
Sony also announced a possible Christmas 2014 release for the next bond film. But will the blond Bond return? Daniel Craig isn't required to appear in any more Bond films, so will he agree to hop back in the Aston Martin? [Screen Rant]
---
Life of Pi
Does anyone else think that when Ang Lee was at NYU he made a list of every genre of movie out there and has spent his career checking them off? Here's a pic from his 'modern literary fable adaptation' Life of Pi based on Yan Martel's book about a boy and a tiger. [First Showing]
---
The Twilight Saga: Breaking Dawn (Part 2)
Check out these new promo photos.
---
Men In Black 3
A Cinema Con screening of footage from the film revealed that Agents J and K (Will Smith and Tommy Lee Jones) battle an alien fish in Chinatown and that Will Smith's time travel isn't a smooth trip, seeing as how he encounters a Tyrannosaurus Rex. [Washington Post]
---
Dredd
IGN is reporting that the Judge Dredd reboot has been rated R. [IGN]
---
47 Ronin
Universal has pushed back the premiere date from November 21st to the dumping ground that is February. While no official reason has been given, unofficial reports suggest that the special effects won't be finished by November. Unofficial speculation is that the film is a mess. The L.A. Times has rundown of everything that could might be going wrong with the film. [L.A. Times]
---
Rise of the Planet of the Apes 2
At Cinema Con, Fox included the film in a list of movies that are set to start production by the end of the summer. [Coming Soon]
---
Transformers 4
Paramount film group president Adam Goodman has confirmed what Shia LaBeouf already said — that the actor is definitely not returning for this sequel. Also, Ehren Kruger, who worked on the previous two movies, is set to write this one. [IGN]
---
Underworld 5
Sony has purchased the domain name UnderworldBattle.com, which could imply that the next Underworld movie will be titled Underworld: Battle. There's no official announcement yet, though. [/ Film]
---
Prosthesis
Universal is planning a new scifi project, with Scott Gimple (The Walking Dead) set to draft the screenplay. Arvind Palep, best known for his work in commercials, will direct. [ Coming Soon]
---
Doctor Who
In casting news, Riann Steele is set to play Egyptian Queen Nefertiti in Series 7, Episode 2.
Also, Michael McShane has been tweeting about his villainous role in Series 7, episode 5. First, he said,
"Most fantastic time doing Doctor Who; best cast and crew I've been with in a while! Long live Gallifrey. [sic]."
Then:
"Spoiler Alert for Dr Who; in my episode the Doctor finds he's got a /;;zapppppp GACK. sizzle, hissssss..."
---
Fringe
In this video interview, Anna Torv talks about whether Olivia is destined to die and throws out some characters she'd like to see come back. With a Season 5 renewal, Torv may just get her wish. [Spoiler TV]
Here's a brief description of "Brave New World, Part 2 of 2," which is set to air on May 11.
"In the climactic conclusion of the Season Four finale, the Fringe team is pushed to their breaking point as they desperately attempt to prevent a catastrophic event that threatens the lives of everyone."
Check out this video in which the cast discusses Friday's episode, "Worlds Apart." [Fringe Television]
---
True Blood
Here's a set picture to whet your appetite for Season 5's June 10th premiere. [Spoiler TV]
Here's a casting call for episode 5.10, "Gone, Gone, Gone." They're looking for some "redneck vampire haters," a professor, and a guard captain. [Spoiler TV]
---
Awake
Here are some promo photos from the May 10th episode, "Say Hello to My Little Friend." [Spoiler TV]
---
Grimm
Silas Weir Mitchell and Russell Hornsby tease the season finale. Mitchell says,
"It really is a bananas episode! A lot happens, a lot of secrets are revealed, a lot more questions are asked. They really did such an amazing job weaving all of this together, the last episode really is quite bananas." According to Hornsby, "It's about a woman in black who has sort of come to do harm to Nick, and I think that by the end, someone's life may be in the balance."
Apparently, however, we won't learn that character's fate until the next season. [E! Online]
---
Supernatural
Here's the official synopsis for the season finale, "Survival of the Fittest."
"Dean and Sam prepare for battle with Dick Roman. Dick's in the final phase of his plan and the Winchesters must team up with Castiel, Bobby, Meg and Kevin, the prophet, to stop him. However, Dick is one of the smartest enemies they've ever faced so it's a mind game to see who can keep the upper hand."
[Buddy TV]
Check out this producer's preview for tonight's "The Girl with the Dungeons and Dragons Tattoo." [Multipleverses]
---
Merlin
Here's a bit of casting news. Stephen McCole is playing a character called Ragnor in an episode directed by Justin Molotnikov. [Spoiler TV]
---
Vampire Diaries
Julie Plec recently offered up some spoilers about the finale and next season. Here's what she had to say about the flashback in "The Departed":
"The flashback in the finale is a nice, small little runner that goes through the entire episode, as Elena is looking back on a part of her life when things were more simple, at least from a supernatural level. That's going to lead a lot of people to think 'oh, they're going to reveal something huge about the way that accident went down.' And I will still say what I said three years ago. That was an accident. Period. End of story. No supernatural influence. So this episode isn't about peeling back a layer of the mythology onion. We actually will get a little flash of something else that happened during that time that we never even really considered. It's more of an emotional thing than it is a suspense thing."
When asked if someone was going to die, she replied,
"This year is not without its emotional casualties."
As for the next season, the characters will experience a lot of changes, including going through their last year in high school. Plec added that she already knows how the show will end, but she didn't say much about it beyond the fact that it made her cry. [K Site TV]
Here's a family photo from the season finale. [K Site TV]
---
Once Upon a Time
Here's a clip from Sunday's episode, "The Stranger," in which Regina tries to seduce David. [Inside TV]
---
Futurama
Has a premiere date! You can tune in to season seven on June 20. [Spoiler TV]
---
The Secret Circle
Producer Gale Harold recently offered some info on events to come since the big reveal that Charles is not Diana's father. He says there is
"a lot of pain" coming for Charles and Diana, along with "deep suspicion and betrayal." Of Charles' attempt to kill Blackwell, Harold says not to expect Charles to give up on that. He adds, "I can tell you that Charles basically has to either edge him out or get rid of him...the face-off, it's not really like a schoolyard fight, it's more like-there is a wildcat stuck in your basement, you got to deal with it. You can't tell your kids that there's a wildcat in your basement because they'd freak out."
Harold also teases danger for the finale, saying,
"Everyone that's involved in this crew, in this witch ghetto, could get eradicated."
Here are some promo photos from the season finale. [K Site TV]
Shelley Hennig teases the finale:
"You'll see Blackwell, Diana and Cassie team up in order to save the rest of the Circle, or one person in particular maybe - with that comes a spell that they have to do using their dark magic and it's just a really cool spell that causes even more peril. It's just a matter of Diana hoping Cassie's not falling back into John Blackwell's arms, so Diana is completely on edge. There's a moment where it looks like Cassie's falling back into thinking John Blackwell's the good guy, maybe it's the power taking her over, but then you realize it's all about survival for Cassie and Diana."
[ TV Guide]
---
American Horror Story
It looks like Chloe Sevigny will be playing "Shelly the Nymphomaniac." [E! Online]
---
Teen Wolf
Here are the first promo images for season two.[K Site TV]
Also, it looks like the second season has a premiere date. The first episode of this season will be split in two parts, with the first part airing Sunday, June 3, and the second to follow on Monday, June 4. [K Site TV]
---
Additional reporting by Jennifer Griffith-Delgado and Charlie Jane Anders.