Hugh Jackman reveals when The Wolverine at last starts filming. A new Doctor Who episode might have the craziest title yet. AMC takes you inside the start of The Walking Dead's season three filming. Plus what to expect from Kick-Ass 2!
Spoilers from here on out!
Top image from Prometheus.
The Amazing Spider-Man
Here's a rather adorable promo featuring some singing by stars Andrew Garfield and Emma Stone.

Here are the latest viral videos starring Rhys Ifans as the Lizard's alter ego, Dr. Curt Connors. [Coming Soon]

And here are some behind-the-scenes photos of various stunts being performed. [Superhero Hype and Coming Soon]
---
The Dark Knight Rises
G/O Media may get a commission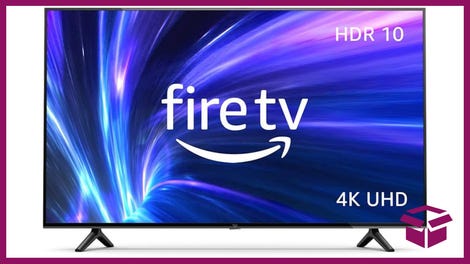 42% Off
Amazon Fire TV 50" 4K Smart TV
Here's a new poster that shows the likely fate that Bane has in store for Gotham City. [/Film]
---
The Wolverine
Star Hugh Jackman has confirmed that the long-delayed new Wolverine movie will start shooting in August. [/Film]
---
Prometheus
Here's a featurette focused on Charlize Theron's character, the corporate stooge Vickers who may not actually be quite as shady as you'd expect a corporate stooge to be in the Alien universe (looking at you, Paul Reiser in Aliens!).

---
Abraham Lincoln: Vampire Hunter
Here's a new international poster. [Shock Till You Drop]
---
Kick-Ass 2
Writer-director Jeff Wadlow explains how he set about adapting Mark Millar's sequel comic:
It's been an interesting process because for those of you who know the property really well, the movie takes some significant liberties with the first comic book. So then Mark did the sequel to the comic book which is Kick-Ass 2. So I had sort of this movie and the comic book and I had to find the intersection. An adaptation was quite a challenge, but one that I really enjoyed and loved. I think the most important thing that's gonna change from the Kick-Ass 2 comic to Kick-Ass 2 the movie was just really finding an emotional story to tell. Because what I certainly loved about the first film, and what I think elevated it above most comic book adaptations, is the heart and the emotion in the film. It was sort of my challenge as the film maker and storyteller to find something as emotional in the second film and I think we have some stuff that people are gonna really respond to.
He also discusses just how he will be incorporating who is now the cast's biggest star, Hit Girl actress Chloe Moretz:
If you've read the comic, you know, she gives up being Hit-Girl, which was a brilliant idea I thought on Mark's part. It's something I explore something quiet deeply in the movie because what happens in the comic is she sort of steps away from the story in many ways and she's sort of sidelined while Dave is working with Justice Forever and Chris is becoming the Mother[frick]er. But I was quite interested in what happens to her when she's not being Hit-Girl... Nothing is official yet. But I had breakfast with Chloë two weeks ago and she's read the script and she's very excited about what we're doing with Hit-Girl. Her story is a major, major part of the film and she's excited about the ideas and we're in talks.
[/Film]
---
Unknown Warner Bros./DC Comics Movies
This section is a bit of a grab bag, but two very different people have recently intimated they might be working with Warner Bros. - and, by extension, the DC stable - on a comic book movie in the near future. First up is Dwayne "The Rock" Johnson, who tweeted this response to a fan's praise:
Funny U say that.. RT: @krystal_burt:@ron2smoove I could see Rock playing in DC movies. Gravedigger or John Stewart (JL's Green Lantern)
For what it's worth, Johnson's director for Journey 2: The Mysterious Island, Brad Peyton, is reportedly developing a movie based on everyone's favorite cartoonishly over-the-top intergalactic bounty hunter, Lobo. The Rock would seem kind of perfect for that part, and he knows the director. Of course, that's completely speculation, and this may well all be nothing. [Screen Rant]
Meanwhile, Men in Black 3 director Barry Sonnenfeld teased this about an upcoming project:
"You know, I'm talking to Warner Bros. about doing a franchise based on a comic that hasn't been around since the 60s. But it's too early to talk about it. But possibly, yes."
Note that Sonnenfeld doesn't say anything about supeheroes in that - or DC, for that matter. So there's a lot of possibilities to play around with on this one. [/Film]
---
Beyond Apollo
Barry N. Malzberg's 1972 science fiction novel, which got perhaps the most insanely mixed reviews of all time, is being adapted for a film by first-time writer-director Michael Grodner. The film will star Underworld's Scott Speedman, Independence Day"s Bill Pullman, and Heroes actress Ali Larter. Here's a synopsis of the proposed adaptation:
"The first two-man mission to Venus is aborted in mid-flight and abruptly returns back to Earth. When rescue crews go to retrieve the space capsule, they make a startling discovery: The Captain is missing – there is no sign of his body whatsoever – and strangely enough, the lone surviving astronaut has no clue about what took place.

Beyond Apollo tells the riveting story of when that astronaut, Harry Evans, returns to earth and must answer to the authorities about what really happened on board the doomed flight to Venus. His mind-bending struggle to figure that out is a harrowing journey through the possibilities: Was the Captain murdered? Did he commit suicide? Or were alien beings responsible for his demise? The answer, as Evans will eventually discover, is far more terrifying than anything he could possibly imagine."
The tagline, in case you're wondering, is "Some Worlds are Best Left Unexplored." [Shock Till You Drop]
---
The 4th Reich
Here's a poster for this war movie in which the Nazis attempt to unleash supernatural forces. It stars erstwhile Game of Thrones star Sean Bean, X-Men: First Class actor Jason Flemyng, and Dog Soldiers actor Sean "son of Jon" Pertwee. There's also a synopsis below. I'm setting Sean Bean's survival chances for this thing at a generous 10%. [Shock Till You Drop]
During the early hours of June 6th 1944 a bloody but victorious offensive took place in occupied Western Europe that would claim thousands of lives. Codenamed 'Operation Overlord' the armies of the combined allied forces would begin their long push to Berlin, with the aim of bringing down the despised Nazi regime.

But the chilling realities of Hitler's true intentions are exposed, to create a force that can never be beaten, a 4th Reich - The New World Order. A team of Nazi doctors and scientists were charged with generating a superior race. Their experiments and research would produce unspeakable evil and change the face of humanity forever. A small select brigade of soldiers from the British 3rd Infantry Division, under the command of the battle hardened Captain Bathurst embark on a dangerous quest to liberate Europe. Fighting their way through the French countryside, villages and war ravaged towns. Every advance they discover increasingly strange events until they reach an abandoned research facility where the true horrors begin.
---
Doctor Who
This is coming from the British tabloid The Daily Star, so definitely take this with a grain of salt, but the title of episode seven is reportedly "Dinosaurs on a Spaceship." Whatever its title, that episode will be the second to feature Jenna-Louise Coleman as the new companion. [Life, Doctor Who, and Combom]
---
Game of Thrones
Here's a quartet of promos for this Sunday's much-anticipated episode, "Blackwater."

Showrunner David Benioff strongly suggests that some beloved characters won't make it out of next week's Battle of Blackwater:
One great advantage we have over the movies is that when one of our characters wades into battle, we've spent almost 19 hours with these characters. You know them so well and hopefully you're worried for them. And some of them are gonna die. There is a way of shooting a battle where you see an army of a hundred thousand attacking an army of two hundred thousand. There's also the ground's eye view where you're an infantryman and you're running out there with an axe or a sword or something, you're not seeing the grand scale of it. You're just kind of seeing what's directly in front of you. And that can be a really visceral way of shooting a battle.
[EW]
And here's a poster. [SpoilerTV]
---
True Blood
Here's another promo for season five.

---
The Walking Dead
Filming has begun on the sixteen episodes of season three, and AMC has the behind-the-scenes video to prove it.

---
Awake
Here are some promo photos for the series finale, "Turtles All The Way Down." [SpoilerTV]
---
Haven
Syfy has put out this press release giving some more information on new cast members Dorian Missick and Kate Kelton's roles, as well as some general info for what's ahead in season three:
Kelton portrays the spirited and fierce "Jordan McKee." She's a waitress at "The Gun & Rose Diner," and also an influential member of a mysterious organization of "troubled" people whose identity is known by the distinctive tattoo marking its members.

Missick plays "Tommy Bowen," a street smart, big city detective who comes to Haven investigating a suspected serial killer case. A shrewd, calculating policeman, he's also a fish out of water, completely mismatched with this small town.

Season three of Haven picks up immediately following the events of the gripping season two finale with Audrey having been brutally kidnapped; Nathan (Lucas Bryant) warned against pursuing a romantic relationship with Audrey; and Duke (Eric Balfour) seemingly engaged in a fight to the death with Nathan after he discovers his family lineage is to kill Haven citizens with troubles.
---
Sanctuary
This could possibly — nay, it will — get lost in the shuffle of Eureka's exit, but Syfy has officially decided to cancel Sanctuary after four seasons on the air. [Gate World]
---
The Selection
Keira Cass, the author of the not yet published series that sounds like a less violent version of The Hunger Games, explains at length just where the pilot stands with CW:
We are not on the fall schedule. And it turns out this is a good thing! The pilot, while very strong, wasn't quite what people (not sure which people) thought it could be. But instead of dropping the show entirely, the CW plans to reshoot it.

From what I understand, the writers and producers are staying, and [Aimee Teegarden] will stay on as America for sure, but some of the characters might be replaced and the script might be reworked. I have no clue and no say over who stays and goes, and I don't know what they would change in the script. I pretty much find things out as they happen, about 5 minutes before you guys do. Sometimes not even that!

It sounds like the CW plans to move quickly, so we might see news in the next few months. If the pilot looks better the second time around, we might see the show air in mid-season (I think that means in the spring) or next summer. And that is actually a good thing, too!
---
Continuum
Here's the description for episode two of the Canadian time travel show starring Star Trek bit player Rachel Nichols:
Kiera may have found a way home but it will come at the cost of a truce with Liber8. - Kiera tries to find the members of Liber8 before they do more damage. Her attempts are hindered when her cover is blown and her partner on the VPD, Carlos Fonnegra, arrests her. But when she discovers Liber8's plan to attempt to get back to 2077, she has to escape and possibly ally herself with her sworn enemies to get back home.
---
Lawnmower Man: The Series
As ridiculous as it might sound, Park Entertainment is reportedly shopping a TV version of the Lawnmower Man movies about a slow-witted gardener who becomes the mega-genius ruler of cyberspace. The Librarian writer David Titcher has reportedly worked on the pilot script, and Park Entertainment is reportedly going to Cannes - Cannes! - to sell the thing. [ShockTillYouDrop]
---
Additional reporting by Ben Vrignon and Charlie Jane Anders.