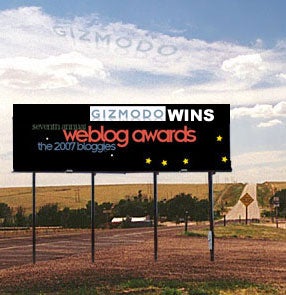 The Weblog Awards were presented at the South by Southwest Conference today in Austin, Texas, and Gizmodo walked away with two Bloggies: Best Computers Or Technology Weblog, and Best-Designed Weblog.
We'd like to thank all the wonderful people who voted for us, especially those visually-impaired folks who thought we had the best-designed weblog of the year. It's a great honor to accept these Weblog awards!
Jump for all the winners and nominees!

BEST WEB APPLICATION FOR WEBLOGS
YouTube

BEST AFRICAN OR MIDDLE EASTERN WEBLOG
Secret Dubai Diary

BEST ASIAN WEBLOG
Tokyo Girl Down Under

BEST AMERICAN WEBLOG
Cute Overload

BEST FOOD WEBLOG
Help! I Have a Fire in My Kitchen

BEST ENTERTAINMENT WEBLOG
Go Fug Yourself
BEST TOPICAL WEBLOG
PostSecret
BEST COMMUNITY WEBLOG
PostSecret

BEST TEEN WEBLOG
It's Raining Noodles!

BEST WRITING OF A WEBLOG
Waiter Rant
BEST AUSTRALIAN OR NEW ZEALAND WEBLOG
The Breakfast Blog

BEST EUROPEAN WEBLOG
My Boyfriend Is a Twat

BEST WEB DEVELOPMENT WEBLOG
A List Apart

BEST WEBLOG ABOUT POLITICS
Wonkette

BEST BRITISH OR IRISH WEBLOG
Girl With a One-Track Mind

BEST PHOTOGRAPHY OF A WEBLOG
FlickrBlog

BEST WEBLOG ABOUT MUSIC
Pitchfork

BEST-DESIGNED WEBLOG
Gizmodo

BEST LATIN AMERICAN WEBLOG
Cooking Diva

BEST CRAFT WEBLOG
Make: Blog
BEST COMPUTERS OR TECHNOLOGY WEBLOG
Gizmodo
MOST HUMOROUS WEBLOG
Go Fug Yourself

*special award for Ernie Hsiung*
BEST CANADIAN WEBLOG
Drawn!

BEST SPORTS WEBLOG
Arseblog

BEST GLBT WEBLOG
PerezHilton.com

BEST GROUP WEBLOG
Lifehacker

BEST-KEPT SECRET WEBLOG
Confessions of a Pioneer Woman

BEST NEW WEBLOG
Say No to Crack

LIFETIME ACHIEVEMENT
Slashdot

WEBLOG OF THE YEAR
PostSecret
Full List of Nominees and Winners [The Weblog Awards]