Last month, Bruce Wayne made the greatest sacrifice he could—lose the happiness he built for himself as a normal man, and be reborn as Batman. But there's something different about this Dark Knight.

Major spoilers ahead for Batman #50, by Scott Snyder, Greg Capullo, Danny Miki, FCO Plascencia, Yanick Paquette, Nathan Fairbairn, and Steve Wands.
Initially, I was pretty miffed that we were getting Bruce Wayne back as Batman so quickly. I've been a big fan of Jim Gordon's stint as MechaBatman, and how Snyder has explored Gordon's role in the Batman Legacy through it. But the Batman we see return while Gordon's foe Mr. Bloom wreaks havoc across Gotham already feels different. This isn't just a status quo reset; it's the start of a new chapter in Batman's history.
And honestly, it's hard not to be pleased when Bruce's entrance is him saying this:
G/O Media may get a commission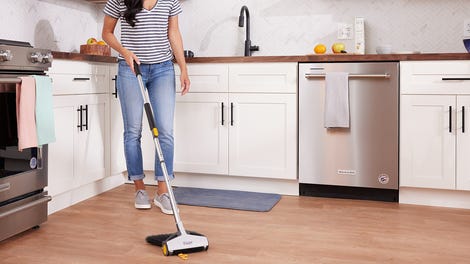 BOGO 50% Off
Flippr - BOGO 50% Off
Not only does Bruce have a new batsuit to run around in, but the process that remade him into Batman in the last issue has, according to Alfred, literally rebuilt him. In the past, Bruce carried a lifetime of wounds and lingering injuries, physical marks of decades and decades of being the Dark Knight. Bruce powered through with sheer strength of will and kept fighting, no matter how beaten or broken his body was. That's not the case anymore.
It's not just a physical difference. This new vitality makes Bruce suddenly a bit cockier, a bit jokier... almost a bit happier. Batman actually make a small quip—he jokily adds that his favorite part of the new suit he's wearing is the boots, right as he kicks Bloom in the face.
He's not the brooding Dark Knight, a man with the weight of the world on his shoulders as he takes it upon himself to dive into the dark. This is a Batman that inspires others to do good, a beacon of hope that inspires the people of his city to save themselves—whether that's to inspire Jim Gordon to almost sacrifice himself to stop Bloom from destroying the city, or the offer he gives Duke Thomas at the end of the book to carry on the Robin legacy.
This becomes most transparent in the issue's epilogue, as Gotham picks itself back up again following Bloom's defeat. Gordon is recovering from his near-death (and thankfully, his moustache is growing back), and is offered the role of Gotham PD's police commissioner once more, now that the Batman program is defunct. As he and Bruce meet up outside his hospital room once more, it's with a new sense of understanding between the two friends—Jim knows what it's like being Batman now, and is almost sad that Bruce has had to sacrifice his peaceful life to take on the mantle again.

But Bruce admits to Jim that the man who could've lived that life is long gone, even with all the changes that have happened to him—death, rebirth, reboot, etc. Instead, he understands that being Batman isn't so much about being the thing criminals fear, but a figure for Gotham to look up to, to find strength in itself to do the right thing while he takes on its darkest underbelly.
And that's really only something Bruce Wayne can do. As we come to the end of Snyder and Capullo's run on Batman, it's a mission statement unlike anything the character has had in a long time—and maybe indicates a brighter, more hopeful world for the Dark Knight.