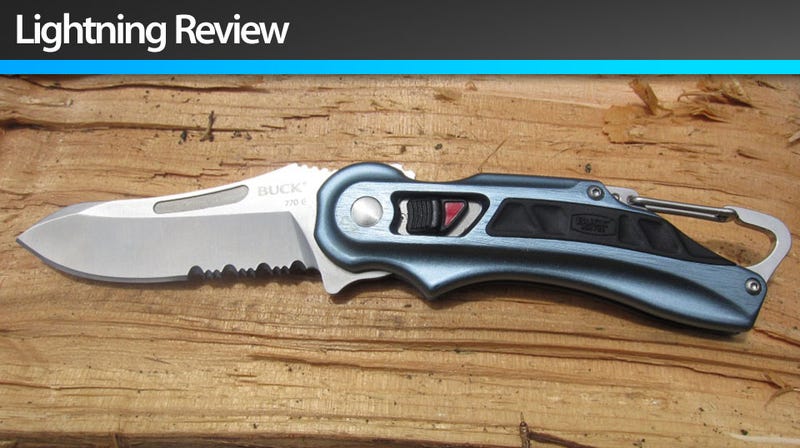 If you are one of the 11 percent of Americans with a dominant left hand, you can stop reading—this knife is of no use to you. For the other 89 percent, the Buck Flashpoint is surprisingly versatile.
Like
The aluminum handle and 2 7/8-inch 420HC stainless steel blade together weigh a scant 4oz. The integrated carabiner clip keeps it close at hand. The best feature is its new SafeSpin system, which locks the blade at both the open and closed positions. Just tug down on the spring-loaded release and flick the blade into position using your index finger. Locking the blade closed prevents inadvertent leg stabs or finger slices after you've used the integrated bottle opener on one too many drinks.
No Like
This is solely a right-handed knife—the release button is designed in a way that simply can't be drawn without the use of the opposable right thumb. It also gets really uncomfortable to hold if you're opening and closing the blade often. Maybe it's just 'cause my hands are big but in order to draw the release button down far enough to unlock the blade, I've got to jam the tip of the carabiner clip into my palm (with enough force to bruise it during the course of this testing). Also, if I grip the handle with any degree of firmness the carabiner clip pinches the shit out of my hand.
$53 from Buck Knives
---
You can keep up with Andrew Tarantola, the author of this post, on Twitter or Facebook.