Technology experts have been insisting for over a century that when the robot revolution finally succeeds, everyone will have a life of abundant wealth and leisure. That hasn't been the case. But it hasn't stopped plenty of people from still insisting that it will happen, even here in the year 2017.

A new article in Australia's The Daily Telegraph trots out some amazing predictions for the near future. Titled, "The robots will steal our jobs, but we'll be enjoying ourselves," it's an article that could've been written in the 1960s. But allow me to tell you why it's bullshit.
The robots are coming — and experts are predicting they will be giving us more time to enjoy ourselves rather than stealing our jobs.
Just... no. This prediction has been around forever. It was particularly popular in the 1950s and 60s. But it hasn't happened. Why not? Because gains in productivity didn't go to workers. They went to the owners of the businesses.
New research suggests a silent robot revolution will affect every job by 2030 — and we will be twice as happy as we are today as a result.
G/O Media may get a commission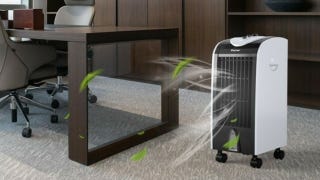 Save $10
Evaporative Portable Air Conditioner Cooler with Filter Knob
Twice as happy? What the hell does that even mean? The article never explains. But even if the article presented a way to quantify happiness, something tells me that such a prediction is quite a stretch.
We've had an incredible amount of automation happen since 2004, 13 years in the past, just as 2030 is 13 years in the future. Are you twice as happy as you were in 2004? If so, do you attribute that to having more free time thanks to technology? Or would you say that technology has made life on earth demonstrably worse?
Does your boss expect you to answer emails at night and on weekends? Does your boss expect you to be on standby to work shifts that you probably won't get paid for if they don't use you? Do you chalk any of these realities up as merely a fact of today's working world? Do these things make you feel better or more relaxed?
Dr Andrew Charlton, co-founder of economic strategy company AlphaBeta, said the increase in automation could boost the [New South Wales] economy by a whopping $580 billion if we embrace the machines: "This significant economic opportunity will not land in our lap. NSW has to be bold enough to lead changes — both embracing technology, and ensuring people can move into new job."
Okay. I'll give you that automation will help businesses expand. But that doesn't mean that workers will see the benefit. Again, who benefits from these forms of automation? Do you think it's you?
Countless TV shows and movies have tried to predict the future and thankfully it seems things will be more Rosie the robot from The Jetsons than Arnold Schwarzenegger in The Terminator. The research says that by 2030 the average worker in NSW will spend two hours and 10 minutes less on routine tasks, instead putting that time into creative jobs.
Less time on mundane work and routine tasks ? That's almost never the case.
Do you know what happened to household work when cleaning appliances got better and better throughout the 20th century? People (usually women) worked roughly the same amount of time cleaning because the standards of cleanliness changed. As cleaning your floors or your clothes got easier, people didn't do less of it. Society simply expected that you cleaned more often and kept your home and self much cleaner than your grandparents had.
But Dr Charlton said that for NSW to capitalise on the opportunity offered by increased automation we will need to teach young people correctly. "We need to make sure our education and training system is preparing young people for the skills we know will be needed in 2030," he said.
This is another things that futurists always predict: We need to prepare people for the jobs of the future. And that's true. But guessing what those jobs might be is a lot harder than you might think.
There's a good chance that kids in elementary school might have jobs that we haven't even invented yet. When I was a kid in the 1980s, "writing online" wasn't something that I dreamed might exist one day, let alone might be a career that could support me financially.

TAFE managing director Jon Black said his organisation was already training students for nine out of the 10 jobs predicted to be most in demand in 2020, adding it was the "the real engine room for the jobs of the future".

Deputy Premier and NSW Skills minister John Barilaro said TAFE was delivering "the skilled workforce we need to support the economy and jobs of tomorrow. "We don't even know what jobs will be emerging ... What matters is that we are agile, working with industry, and providing opportunities for people to skill-up in those emerging sectors," he said.
Again, that's great and important. And countries like Australia actually do a decent job of re-training. But 2020 is less than two years away. So I'd be careful with prediction about "jobs of the future" that make it sound like we have some great talent for prognostication.
Australian Research Council future fellow Rafael Calvo said artificial intelligence was already in our lives and the key was to provide research explaining exactly how it impacts us.

"In the same way we now know that artificial food colouring is bad for our kids, so we need to understand the negative impacts any piece of software can impact our lives."
The problem, of course, isn't technology. It's politics. The post-scarcity automated society is entirely possible, it's just a matter of accepting a different kind of world. It's a world where you don't get a new iPhone released every 6 months. And it's a world where choices are made that benefit workers rather than businesses.
Let's just say I'm not holding my breath that we're going to be living the high life of George Jetson anytime soon. Absent a worker's revolution, of course. And we seem much closer to a robot uprising than we are to a worker's paradise here in the early 21st century.