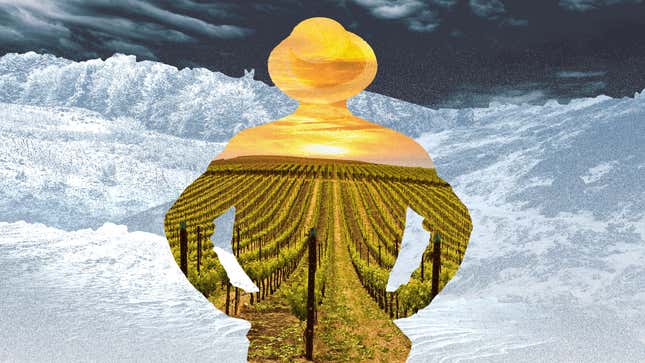 California couldn't catch a break from consecutive storms this winter. Heavy precipitation caused widespread flooding, while strong winds felled trees and damaged roads, power lines, and homes. The weeks of severe weather also turned fields into a muddy mess and disrupted work for the state's many agricultural workers.

The Mississippi River is Drying Out | Extreme Earth
Ester is one of those workers. She lives in Monterey County, which is along California's central coastline and is known for grapes and wine production. During the winter storms, Ester would get ready and arrive at her job site, only to be turned away if there was flooding or if the fields were too muddy.
"We don't have the option of saying, 'I don't want to go in today,'" she told Earther in Spanish. "It's a half-hour drive to my job, and that's after waking up at 4 a.m. and getting everything ready for the day."
Ester is originally from Oaxaca, Mexico, and is undocumented. She didn't feel comfortable sharing her full name. Combined, Ester and her husband make about $60,000 a year and budget to afford necessities for their three children. She typically works five days a week for $16.50 an hour. If she misses a day of work, she doesn't get paid. And if Ester showed up on rainy days, she and other workers turned away also went unpaid.
Inflation and covid-19 have made getting by difficult, the storms this year have really strained her family's finances. During especially stormy weeks, Ester only worked two or three days. "It wasn't enough for us to survive. It really affected me," she said. During those hard weeks, the United Farm Workers union helped Esther have access to food until she was able to start working more days.
Cecilia Rodriguez Cruz is another farmworker who is originally from Mexico. She works in Sonoma, California. She makes $17.25 an hour working in grape vineyards. Like Ester, Cruz couldn't work during some of the stormier days this year. "The little that we had saved up, we had to use that to get by," she told Earther in Spanish. "It's really sad that I have to get up at around 3 a.m. to get there, only to hear, 'You can't work today because it's raining.'"
Limited support for California's farmworkers
Rodriguez Cruz told Earther that, with the help of North Bay Jobs With Justice, a coalition of labor organizations, she was able to apply for a disaster relief fund in for workers in Sonoma. "In January, when folks are missing work, they were able to apply for money from the fund that they won," Davida Sotelo Escobedo, an organizer with North Bay Jobs With Justice, said. "It just speaks to the need that happens when these disasters happen."
Rodriguez Cruz said she received about $800 from that fund. It was a one-time payment, which wasn't enough to compensate for all of the missed work days. Ester received a $600 payment through the USDA's food and farmworker relief program. It was a covid-19 government relief program that organizations received and distributed to workers. She also said it didn't cover the income that she lost.
Organizers like Escobedo say California officials should consider ongoing extreme weather hazard pay or unemployment to support workers like Ester and Rodriguez Cruz, who struggled financially even after funding payouts. Escobedo also pointed out that farmworkers are often exposed to severe weather year-round, and it may only get worse over time. "Climate change changes everything," they said. "​​When it's not storms and flooding, it's like wildfires and smoke."
Rodriguez Cruz agreed. She's lived in California since the late 1990s and says she's seen how weather patterns have changed over time. And she never thought storms like the ones Californians experienced this year were even possible. She has had work hours cut in the past for other forms of severe weather, including heat waves, and wonders how else her income could be interrupted in the future. Rodriguez Cruz explained that she and other outdoor workers have been exposed to wildfire smoke in the past because they didn't feel they had the option to stay home. "We're risking our lives when we work in the smoke," she said. "It's only fair that we're paid extra for that. We don't know if we'll make it home safely or if we'll end up getting sick from exposure."
Some elected officials are pushing to create protections for farmworkers. In February, Colorado launched a wage replacement program that would give cash payments to unemployed workers, regardless of their immigration status. Some California lawmakers want their state to create a similar program. They've cited the atmospheric rivers and past fires as reasons why the state should fund financial safety nets for undocumented agricultural workers. But it isn't clear if the bill that make this possible will be approved. In 2022, California Governor Gavin Newsom vetoed a similar bill that would have provided unemployment payments to undocumented workers.
Early pandemic eviction protections and food subsidies have lapsed 
Antonio De Loera-Brust, a communications director at United Farm Workers, explained that the timing of the storms this year has also complicated financial recovery for workers. In March 2020, low-income California residents saw an increase in grocery money through CalFresh, which is California's implementation of the Supplemental Nutrition Assistance Program, or SNAP. But those extended benefits expired after this March. Less food assistance, alongside days of missed work and low pay, has further strained agricultural workers' ability to survive. "I know people are already falling behind on rent," De Loera-Brust told Earther.
"If you're undocumented, you're excluded from whatever limited social safety net there is," De Loera-Brust said. "And even for workers who are documented... they were already living paycheck to paycheck."
For Ester, that lack of support for workers like herself has made it difficult to hear the phrase "essential worker." As covid-19 era protections fade with nothing to replace them, it's hard to remember how officials once celebrated people like her. "We're the ones who do so much for this country. We put food on the table, and this is how we're repaid," she said.
Want more climate and environment stories? Check out Earther's guides to decarbonizing your home, divesting from fossil fuels, packing a disaster go bag, and overcoming climate dread. And don't miss our coverage of the latest IPCC climate report, the future of carbon dioxide removal, and the invasive plants you should rip to shreds.