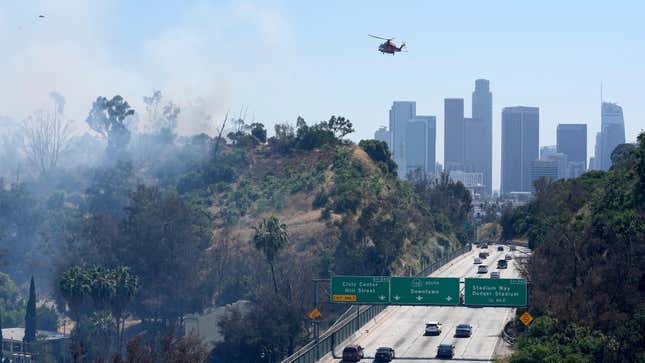 It's supposed to be pretty hot in California during the summer, but the golden state is going to see higher than average temperatures this week and into this coming weekend.
Vizio's Latest TVs Go All Quantum
Areas like Palm Springs could see highs of around 112 degrees Fahrenheit (44.4 Celsius) today, according to the National Weather Service. The San Bernardino area is going to experience highs of 99 degrees Fahrenheit (37 Celsius). Parts of central California, especially around the San Joaquin Valley, are under an excessive heat watch. The valley is expected to experience highs as hot as 112 degrees Fahrenheit (44 Celsius) this week, and triple digit temperatures are also possible tomorrow.
"Peak of the heat Fri-Sun with 100-113 degrees," the Los Angeles NWS station tweeted yesterday. "Stay hydrated, wear lightweight, light-colored clothing, stay out of the sun and in air conditioned environments as much as possible."
Not far from California, parts of the Southwest are also seeing hot weather too. Arizona is especially likely to experience higher than average temperatures this week. "Current temperatures this morning range from the upper 80s to low 90s in the Phoenix metro area," the Phoenix NWS station tweeted this morning. "High temperatures are anticipated to reach between 108-112 degrees across the lower deserts this afternoon."
Nearby, Texas is still roasting under yet another round of high heat. This comes after sky-high temperatures strained the lone star state's grid late last month. "The hot and dry conditions continue through the week and into next week," the Austin NWS station tweeted. "There is an increased risk for heat related illness for those spending extended time outdoors and not taking precautions."
Want more climate and environment stories? Check out Earther's guides to decarbonizing your home, divesting from fossil fuels, packing a disaster go bag, and overcoming climate dread. And don't miss our coverage of the latest IPCC climate report, the future of carbon dioxide removal, and the un-greenwashed facts on bioplastics and plastic recycling.