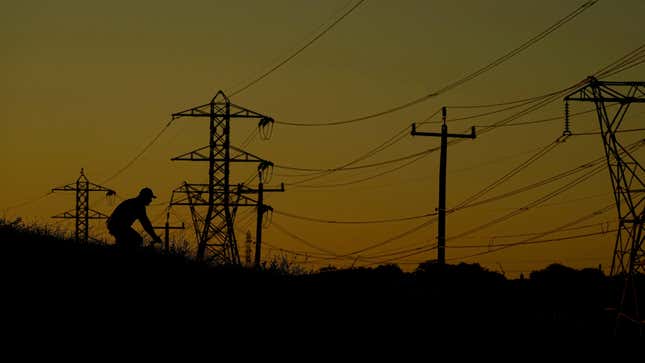 Businesses and homes throughout Texas cranked up their air conditioning this week during the ongoing heat dome, pushing the grid into record-breaking energy usage.
This Summer's Hottest Umbrella
Data from the Electric Reliability Council of Texas (ERCOT), the state's grid operator, showed that power use reached 80,828 megawatts at 6 p.m. central time on Tuesday, Reuters reports. This topped a previous record of 80,148 megawatts that was set last July, according to ERCOT data.

The state's often fragile electric grid has been propped up this year by renewable energy sources, the Texas Tribune reported. Despite overwhelmingly right-leaning leadership and a governor that has echoed climate-denying talking points in the past, Texas has significantly increased solar power generation in recent years. In 2022, the state surprisingly led the country in both wind and solar energy generation. That expansion held up the grid this week during peak energy usage—solar provided almost 20% of power needs on Tuesday before demand peaked.

Today is going to be another scorcher for the lone star state, and another day that will probably strain Texas' electrical grid. It's likely that energy usage could peak again this week. ERCOT has said that it will be able to meet energy demand despite the ongoing heat, and the grid is currently seeing normal conditions.

Texans are definitely going to have to turn up their cooling systems again today. Communities throughout Texas are going to continue to see triple-digit heat indices for several more days, just in time for the Fourth of July weekend. Communities in north Texas, including Dallas and Fort Worth are expected to experience temperatures up to 109 degrees Fahrenheit (42.7 degrees Celsius) with heat indices up to 115 degrees Fahrenheit (46 degrees Celsius), according to the National Weather Service. Cities further south in the state are also seeing similar temperatures.

"A Heat Advisory is in effect for expected heat index values greater than 108 degrees," the Houston NWS station tweeted today. "Similar conditions are anticipated for Thursday, Friday, and Saturday."

The heat that's baked Texas for days now is spreading up and out to the rest of the South. There are excessive heat watches, warnings, and advisories throughout the Southern Rocky Mountains, the Lower Mississippi Valley, and throughout the Gulf states. Tens of millions of Americans are currently under some sort of heat warning or alert, according to Heat.gov.
Want more climate and environment stories? Check out Earther's guides to decarbonizing your home, divesting from fossil fuels, packing a disaster go bag, and overcoming climate dread. And don't miss our coverage of the latest IPCC climate report, the future of carbon dioxide removal, and the invasive bugs you should squash on sight.