California is burning. The state's wild-ass wildfires are becoming the norm, but this change is something many communities in California can't afford. These wildfires degrade the air quality—and towns near and far are feeling it.
Right now, nearly 20 fires are ablaze in the state. The Mendocino Complex Fire has quickly risen to the state's second-largest wildfire in modern history. The still-raging Carr Fire, meanwhile, is the state's sixth most destructive. Hell, even Yosemite National Park is on fire due to the Ferguson Fire, which has been burning for 24 days and counting.
The smoke billowing out of these fires has been on the move, posing health threats to communities that might've not been worried about the fires at all. Smoke from the Ferguson Fire has traveled about 100 miles to Reno, Nevada, where air quality advisories are on.
The smoke created when flames ignite trees and organic matter is nasty stuff full of particulate matter that can lodge itself in people's lungs and eventually make its way to the heart. Once in our bodies, it can cause lung disease, lung cancer, and heart disease. And the toxic compounds in these particles are worse than the smoke spewing out of cars, said Greg Huey, the chair of Georgia Tech University's Earth and Atmospheric Sciences department who's researched the topic.
G/O Media may get a commission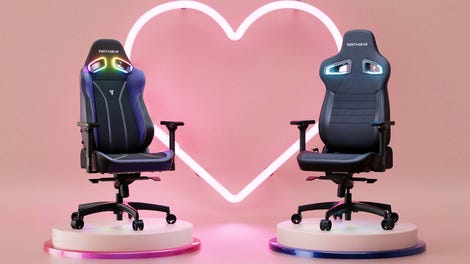 Up to $150 off
Vertagear Gaming Chairs
"Car ignitions have a lot of emissions controls on them," he told Earther. "Even a coal-fired power plant, which we might normally think of as dirty has quite a bit of emission control compared to wildfires. You have a lot of smoldering fires. You can see a lot of brown and black smoke, so you can see quite a range of products that come out of fires. It's just a much dirtier combustion."
That smoke moves quickly as winds shift, and the people who lie in its path bear the consequence, said Tom Flannigan, a spokesperson with the Bay Area Air Quality Management District.
"Our mountains and our microclimates are such that some areas might not be feeling any of the impact at all while others are disproportionately impacted," he told Earther, "That is very well due to the topography of our state, but most of what we see is that if you are near the fire or downwind of the fire, you will be impacted."
Much of the air throughout the state, as well as neighboring states like Nevada and Oregon, is currently in the "unhealthy for sensitive groups" range. Where the fires have concentrated, southeast of Sacramento near the Nevada state border, the air quality is straight up unhealthy and even hazardous in some areas—for everyone.
California cities already deal with some of the highest levels of air pollution in the country, especially in the state's Central Valley, where many of its oil refineries are located. The people poised to suffer the most are the low-income families and communities of color that already deal with poor air quality on the daily due to their vicinity to industry. These fires aren't helping.
"It's a serious public health concern that we have, so we work to let people know that they should do what they can to limit their exposure," Flannigan said.
A study published last month found that extreme air pollution days have gotten worse in the last 30 years for states from Nevada to Montana, and wildfires are largely to blame. And the situation will continue to get worse in the face of climate change. While California used to have a distinct fire season, today it's more of a year-round thing, Flannigan said.
That's bad news for human health, Huey at Georgia Tech emphasized.
"The more fires you have, the more acreages burned, the more emissions you have," Huey said. "You're going to raise the levels [of particulate matter] that people can be exposed to."