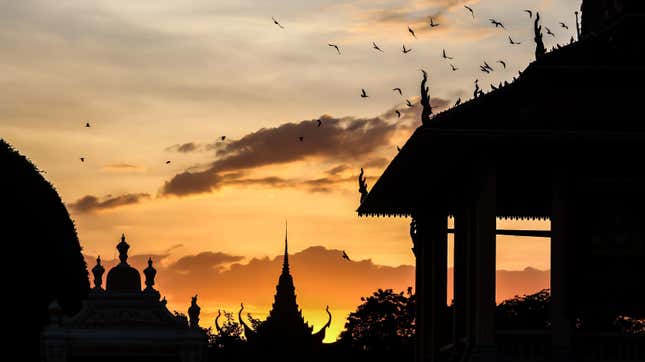 An 11-year-old girl in Cambodia has reportedly died after contracting H5N1 avian influenza, also known as bird flu, while her father has also tested positive for the virus. It appears to be the second confirmed human death linked to a surge in cases among birds and mammals since 2020, and this is the first documented human outbreak of H5N1 in the country in nearly a decade. Officials are now testing the family's close contacts, some of whom have shown symptoms, but it is unclear whether these cases were spread from person to person or through a shared exposure to infected animals.

Mental Health Apps Are a Privacy Nightmare
Cambodian health officials reported the girl's diagnosis and death on Wednesday, soon after it had happened. She is said to have fallen ill a week earlier and was taken to a children's hospital in Phnom Penh. On Friday, officials confirmed that her father has tested positive as well. Eleven other contacts have been identified and tested at this time, including some who are currently experiencing illness. Early Friday morning, the World Health Organization said it is working with Cambodia to investigate the outbreak.
Since 2020, a novel H5N1 strain, belonging to the clade 2.3.4.4b, has spread far across the world and caused large and deadly outbreaks in wild and domestic birds. What's made this strain all the more concerning is that it's also spread to a variety of mammals, including minks, raccoons, and seals. Most of these outbreaks have been traced back to direct contact with birds, but there is evidence that the virus is at least occasionally spreading between mammals.
Avian influenza is regarded as one of the most likely germs to become a pandemic threat. The generally high mutation rate of influenza and the novelty of a strain that successfully jumps from other animals to humans has the potential to create a flu that spreads rapidly from person to person, while having a much higher fatality rate than the seasonal flu or most any other infectious disease.
However, human cases of avian influenza are generally rare and typically don't spread between people. So far, this new strain has been even less common in humans than others, with only six cases reported since 2020 prior to this current outbreak in Cambodia (the exact strain of H5N1 in these latest human cases hasn't been confirmed yet, it seems). According to Cambodian Health Minister Mam Bunhen, these are the first human cases of H5N1 seen in the country since 2014. Unlike at the beginning of the covid-19 pandemic, there is an existing pipeline of flu vaccine and antiviral technology that would allow us to respond to potentially serious outbreaks within a relatively short period of time.
While two cases in the same family leave open the possibility of human-to-human transmission, it's far from certain. Officials have reported that many of the family's farm birds had recently died as well, suggesting the more common route of animal-to-human transmission.
At the same time, WHO officials are worried about the emergence of this new strain of bird flu, and it's possible that these latest human cases may lead them to reassess its threat level. In December, the agency determined that these strains posed a low risk of infection to humans.
"The global H5N1 situation is worrying given the wide spread of the virus in birds around the world and the increasing reports of cases in mammals including humans," said Sylvie Briand, director of epidemic and pandemic preparedness and prevention at WHO, in a virtual press briefing Friday. "WHO takes the risk from this virus seriously and urges heightened vigilance from all countries."