A shooting has occurred at University of California, Berkeley—the home of some of Silicon Valley's upcoming best and brightest. Update: Police say they have a suspect in custody.
According to a Twitter witness report, "about 10 shots were fired in a computer lab" at Berkeley's Haas School of Business. A call to the university's police department confirmed the incident, which is "under control" according to a spokesperson.
• Another Twitter report says the shooting happened in the computer lab's 3rd floor
• "Choppers are here, media is here. All classes are canceled today. Everyone seems to be ok. Paramedics stretchered one person out," tweets a Haas MBA student.
• Campus police are still urging the public to stay away from the scene of the shooting.
G/O Media may get a commission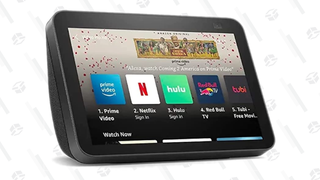 • Berkeleyside.com is reporting the shooter has killed himself, according to campus police. It remains unclear whether any of those other shots caused damage or injury.
• ABC reporter Lyanne Melendez clears up Berkeleyside's misleading report, confirming with campus police that the shooter was shot by officers, not himself:
Police say they received a call at 2:15 saying there was a man with a gun at Haas. Police shot the man and was sent to Highlands Hospital.
• Berkeley student J.D. Morris relayed this image of the crowd surrounding the crime scene.
Unsurprisingly, info on this shooting has moved via social channels faster than any traditional outlet could ever touch it. Here's a stream of Twitter's rapid response in the wake of the shooting.
---
You can keep up with Sam Biddle, the author of this post, on Twitter, Facebook, or Google+.