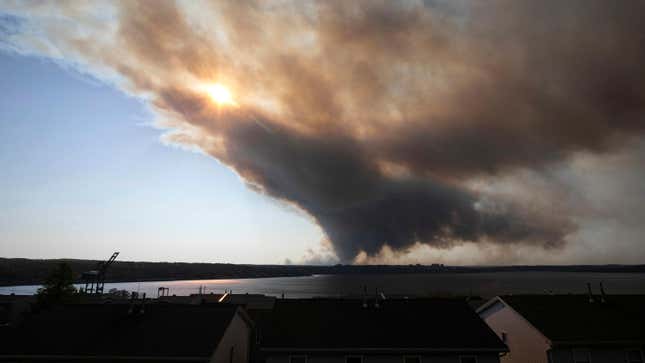 Wildfires have been raging throughout Nova Scotia since last week, lowering air quality for cities in the Northeast. As a result, skies across New England, New York, and New Jersey have been hazy this week as smoke from the wildfires made its way down south.
Biggest Forest Fire in New Mexico History
Residents across Massachusetts have reported smelling wildfire, the Boston Herald reported on Tuesday. This led to the Massachusetts Department of Environmental Protection issuing an "Air Quality Alert" yesterday for nine counties across the state. The department advised that "people in sensitive groups should reduce prolonged or heavy outdoor exertion, take more breaks, do less intense activities, follow asthma action plans, and keep quick relief medicine handy. Watch for symptoms such as coughing or shortness of breath."
The department said that air quality should improve by the end of this week. But smoke is expected to linger until late this Thursday and anyone sensitive to changes in air quality should avoid being outside for too long.
Pennsylvania has seen a decline in air quality this week too. The National Weather Service issued a Code Orange Air Quality Alert for Pennsylvania and nearby Delaware. "Sensitive groups should take precautions if going outdoors!" the Mount Holly National Weather Service account tweeted yesterday.
The constant outbreak of fires has also spiked the number of respiratory distress calls in Eastern Canada too, the CBC reported. "Wildfire smoke can travel really far and it can linger in the air for weeks at a time, so even if you can't see the smoke in your area, the particulate matter and the level of air quality go down, so people have to take precautions to protect their lung health," Michelle Donaldson, the communications director for the Lung Association of Nova Scotia and Prince Edward Island, told the CBC.
Multiple fires have raged across Eastern Canada this month, straining emergency response teams. As of this week, fires in the Halifax region have pushed more than 16,000 people to evacuate, and have damaged about 200 buildings, the New York Times reported. Crews are still on the ground trying to contain a fire in the region that is currently impacting an area of more than 837 hectares (2068 acres), according to the Halifax Regional Municipality. "The fire is ongoing and is not yet under control," the Municipality's account tweeted today.
Climate change is fueling longer, and more active wildfire seasons throughout North America. Warmer weather is arriving earlier every few years, and prolonged elevated temperatures evaporate moisture from environments, making it ideal for wildfires to spread, according to the National Oceanic and Atmospheric Association. Several provinces across Canada have experienced unusually warm spring weather this year, and windy conditions have worsened wildfires, Reuters reported.
Want more climate and environment stories? Check out Earther's guides to decarbonizing your home, divesting from fossil fuels, packing a disaster go bag, and overcoming climate dread. And don't miss our coverage of the latest IPCC climate report, the future of carbon dioxide removal, and the invasive bugs you should squash on sight.