Since the Canon 5D Mark II emerged almost four years ago, many pro videographers on a budget have shot their material exclusively with DSLRs. They've loved every minute of it. But they've been waiting for the next big thing—a dedicated video camera with a large sensor, interchangeable lenses, and no compromises. The Canon C300 might just be that machine.
Why It Matters
After the 5D Mark II arrived, nobody was willing to go back to the clunky, bland, lifeless images of an old Sony PD150 or its HD equivalents. But the 5D Mark II was always a still camera at heart, and it showed with the lack of essential video features like proper audio controls and focus peaking. Other products meant to fill the gap. In 2010, there was the Panasonic AF100, and last year, the Sony FS100. Both of those cams were solid attempts. But the Canon C300 really takes it up a notch. This camera will shoot TV commercials, indy feature films, broadcast TV shows, and high-end documentaries. This $16,000 tool splits the difference between a $3,000 video-capable DSLR and a top cinema camera, like a $40,000 RED.
Like
The C300 is bliss. It's simple and intuitive to use—a surprise, since a pro-level beast like this could come with a convoluted web of buttons, acronyms, and menus. The C300, however, strikes the perfect balance between being customizable and user friendly. The lack of automatic functions helps keep things simple. There is no auto focus, exposure control, ISO setting, or shutter speed. Those used to shooting with a DSLR will be accustomed to this, but those coming from a more traditional video background will have some adjusting to do.
The C300 has a rather unorthodox form-factor. The body is tall instead of long, sort of like an old Bolex. It is extremely light, with most of the heft coming after a lens, grip, handle, and LCD are attached. The modular nature makes the system quite portable, and easy to tailor to the user's needs. With the side-grip attached, it feels balanced and secure. It's quite a pleasure to hold.
G/O Media may get a commission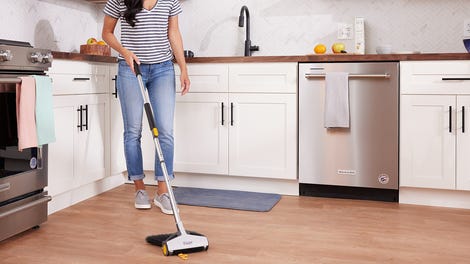 BOGO 50% Off
Flippr - BOGO 50% Off
So what does the C300 offer image-wise? Some significant image improvements over any DSLR are dynamic range, resolution, and low light capability. The amount of information visible in the shadows and highlights is outstanding. The image is also tack-sharp. One of the biggest complaints against the new Canon 5D Mark III is that it produces a softer, lower-resolution image that is riddled with compression fuzz. In contrast, crisp, clean lines abound on the C300's footage. Low light is a measly foe as well. As great as DSLRs are in low light, the C300 is clearly superior.
No Like
The first spot the C300 could have stepped up its game is with its frame rate options. Standard speeds are 24 or 30 frames per second (fps) at 1080p resolution. For sweet slow-motion shots, 60 fps is needed. The Canon can only record 60 fps at 720p. 60 fps at 1080p is a feature that the $1200 Sony NEX-7 has. But not on the C300, and not on any of Canon's DSLRs (except its to-be-released $15,000 EOS 1D C). Seriously.
Second, autofocus. For the most part, the simplified all-manual approach works. But a DLSR-style autofocus is helpful, even if only to use between shots.
Last, there is no built in LCD. To comfortably and inconspicuously tote the C300 on a street, you don't want Canon's monster LCD jutting out the top of the camera. A smaller all-around footprint would be great.
A Canon 5D II or III DSLR produces an image with a full-frame look. There is a certain charm to that wonderfully wide field of view. It looks grand and cinematic in scope. This is subjective, but the 5D possesses a creaminess, especially in skin tones, that is not reproduced in the C300. That said, it is awfully hard to give much weight to such subtleties.
Should I Buy It?
All in all, a camera like this is what video shooters have been waiting for. The C300 is ready, it is able. Except for one thing. It costs $16,000! But there are plenty of ultra-high end, unaffordable cameras. Why make a big stink over this one?
The reason is that this camera should hit the prosumer market at well under $10,000. Lacking much expertise in matters of manufacturing or component pricing, it's still just hard to believe that this camera has to be so expensive. If Sony can release the newly announced FS700 at under $10,000, able to shoot 240 fps and adapt to 4K recording, why can't Canon? If Canon is smart, within a year, a watered-down version of the C300 will appear. If Canon can lower the price by eliminating the features that many pros don't need—gen-lock, hd-sdi out, etc—and then, yes, you should buy it.
Whether or not Canon actually gets the price down, cameras like the C300 represent the future of prosumer cinematography. Sony has realized this, Panasonic sort of has, and Canon will too. Young, independent, creative individuals making short films, documentaries, and web video demand this kind of camera. Canon raised these artists on its DSLRs. Will Canon be the company to take the next step? [Canon Cinema EOS Cameras]
Canon Cinema EOS C300
Price: $16,000 (body)
Sensor: Super 35 CMOS
Mount: EF or PL
Max ISO: 20,000
Image Size: 1920 x 1080, 1280 x 720, 1440 x 1080
Frame Rates: 60i, 60p (720p), 30p, 24p, 50i, 25p
Color Space: 4:2:2 at 50 Mb/s
Recording Media: CF (2 slots)