Now you can eat—and more importantly, drink—like an 18th-century denizen with Outlander Kitchen: The Official Outlander Companion Cookbook.

Welcome to Gizmodo's Happy Hour. Substance abuse for nerds.
It's based on the wildly popular Outlander Kitchen blog by professional chef and food writer Theresa Carle-Sanders. That, in turn, is a tribute to the wildly popular series of Outlander novels by Diana Gabaldon, and the TV series of the same name. It's basically a time travel saga, in which a World War II nurse gets sucked back in time to 18th-century Scotland and falls in love with a hot Scottish hunk, despite having a husband back in the 1940s.
Not all the recipes are from 18th-century Scotland, because the characters travel through space and time quite a lot over the course of the series, giving Carle-Sanders three different centuries and half a dozen countries to work with. But even then, it's not realistic to expect modern cooks to, say, boil a sheep's head and scrape out all the nose hairs. "Your house will stink for weeks," Carle-Sanders told Gizmodo. "A lot of people think they want to eat like Jamie and Claire [the main characters], but I've done it with my husband, and you don't. It's fun for about a day."
So she's cleverly adapted traditional recipes to create dishes for the modern palate and kitchen. For the cocktails section, many of the recipes are more "character-inspired," like Jamie's Rusty Nail—basically scotch whiskey and Drambuie on ice, with a lemon twist.
G/O Media may get a commission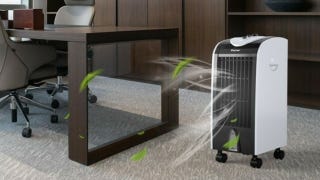 Save $10
Evaporative Portable Air Conditioner Cooler with Filter Knob
Of the genuinely vintage recipes, I would have loved to try the Syllabub, a dessert-like concoction of milk and sweetened wine whisked into a froth. Let it sit overnight, and it will separate, the sweet wine sinking to the bottom. Folks would sip the wine through a straw and use a spoon for the creamy goodness. (Carle-Sanders' version is made with cider instead of wine.) But it's tough to get raw milk in the US and we irradiate the hell out of our whipping cream, so you won't get that crucial separation.
So I opted to make the Cherry Bounce, essentially a sweet whiskey infusion. "The more historical research you do, the more you realize that a lot of people were at least tipsy half the time," Carle-Sanders said. Given the relative lack of potable water, 18th-century folks drank beer during the day, switching to wine and liquors like Cherry Bounce in the afternoons and evenings.
Her Cherry Bounce recipe was inspired by a chapter from the sixth book in the series, A Breath of Snow and Ashes, set in 18th-century North Carolina, just before the American Revolution. A child stumbles upon his parents' vat of the stuff in the barn and over-indulges, falling into a deep, contented sleep. The instructions: "Tak' the juice of a bushel o' cherries, dissolve twenty-four pound o' sugar ower it, then ye put it into a forty-gallon cask and fill it up wi' whiskey."
One character compares it to "industrial strength cough syrup."
It was certainly a very popular beverage in the colonies. George Washington supposedly "drank gallons of it," said Carle-Sanders. "I think that's why he lost all his teeth."
The original Cherry Bounce really was sickeningly sweet. "It actually verges on undrinkable for our palates," said Carle-Sanders, which is why she cut the sugar drastically for her modernized version (see recipe below). She recommends a good mid-priced scotch blend whiskey for making bounce—why waste your pricey single-malt? And since most people won't be able to find true sour cherries in their local grocery store, she's added lemon juice and grated lemon rind to add a touch of sourness.
It's super-easy to make Cherry Bounce. Mix together all the ingredients, seal in an air-tight Mason jar, and then just let it sit for six to eight weeks. Then strain it out the liquid from the booze-soaked cherries, and voila! You can use the cherries as garnish over ice cream, too.
Granted, this is an old-fashioned method for making infusions—in recent years, instant infusions have been all the rage—but there's something satisfying about the slowness.
Whiskey is especially good for infusions, according to chemist and infusion aficionado Ray Burks, because it has such a high alcohol content. It's possible that the 18th century version involved a bit of fermentation, assuming some yeast found its way into the (likely unwashed) cherries and survived its contact with the alcohol. It could feast on all that sugar and boost the alcohol content of the final bounce even higher.

You can drink Cherry Bounce straight up and it tastes just fine—the sweetness makes it ideal for an after-dinner drink. But we also tried making a whiskey-based (as opposed to traditional bourbon) Old Fashioned cocktail, with excellent results.
Just pop a fresh pitted cherry into the glass, along with three dashes of bitters. Add an orange slice and muddle the fruit. Then pour two ounces of Cherry Bounce into the glass and stir. Add ice cubes if you like your cocktail on the rocks, and garish with an orange slice.
Happy Friday!
CHERRY BOUNCE
[Courtesy of Theresa Carle-Sanders/Outlander Kitchen. Used with permission.]
3/4 pound sour cherries, stems removed, pitted
1/3 cup sugar

2 TBSP fresh lemon juice [optional; only if you can't find sour cherries]

Zest of 1 lemon, grated
25 ounces blended scotch whiskey
Stir together the cherries, sugar, lemon juice, and lemon zest in a 2-quart jar until the sugar is dissolved. Pour the whiskey over the top and stir again before covering with a tight-fitting lid.
Store in a cool, dark place for 6 to 8 weeks. Taste for sweetness and add 2 TBSP more sugar if desired. Close the jar and return to its waiting place up to 2 more weeks.
Once it's to your liking, strain the bounce through a strainer lined with a few layers of cheesecloth or a clean linen or cotton tea towel that you don't mind permanently staining. Store in a glass container in a cool, dark place.