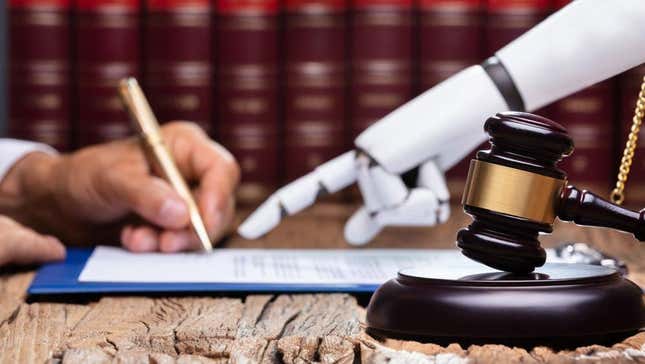 Two New York City lawyers and their firm were spanked with $5,000 in fines after they turned in legal documents written with help by ChatGPT. Unfortunately for the lawyers' checkbooks, ChatGPT didn't stick to the facts, and instead pulled a number of quotes and citations out of thin air.
The FTC Just Prescribed a Can of Whoop Ass on Health Data
Federal Judge P. Kevin Castel wrote that the lawyers and their firm, Levidow, Levidow & Oberman, P.C., acted in bad faith and lied to the court in order to cover up their mistakes. The respondents "abandoned their responsibilities when they submitted non-existent judicial opinions with fake quotes and citations created by the artificial intelligence tool ChatGPT, then continued to stand by the fake opinions after judicial orders called their existence into question," Judge Castel wrote in the decision.
The shenanigans came to light when the court noticed six of the legal cases used as citations were imaginary. The judge wrote that lawyers Peter LoDuca and Steven A. Schwartz then made matters worse for themselves by lying to the court. When the court questioned their made up case law, the judge said Schwartz offered "shifting and contradictory explanations" and LoDuca pretended to be on vacation in a bid for more time. Levidow, Levidow & Oberman, P.C., did not immediately respond to a request for comment.
Earlier this month, Schwartz said at a hearing that he used ChatGPT in his search for legal precedents to support an injury case against the South American airline Avianca for an injury that happened on a flight in 2019. According to documents filed with the legal decision, ChatGPT maintains that its fake case law is real. For example, screenshots show the judge logged into ChatGPT and asked whether a case the lawyers cited is real. The AI responds "Yes, Varghese V. China Southern Airlines Co LTD... is a real case," and suggests you can look it up in the databases Westlaw or LexisNexis. You're unlikely to find anything other than references to these newly disgraced lawyers, however, because Varghese is an imaginary lawsuit.
Schwartz and LoDuca aren't the first lawyers to test ChatGPT's legal prowess. The chatbot has swallowed up an untold volume of legalese, and can often respond to complex legal questions with stunning accuracy. The online legal service DoNotPay canceled plans to have ChatGPT act as a lawyer after numerous State Bar associations threatened to take action against the company. As much as we'd love to see a computer program beep boop its way through a court case, it's not clear whether robots can be lawyers — at least for now. However, the latest version of the tech called ChatGPT-4 did manage to pass the Bar exam with top marks last March.
The problem, as Schwartz and LoDuca now know too well, is ChatGPT often makes things up entirely. Worse, those fabrications can be indistinguishable from the robot's other surprisingly accurate responses. ChatGPT is impressive, but the public is slowly waking up to the fact that the technology is built to spit out answers that look accurate, not to provide responses that are actually correct. That's an important distinction, one that cost these tech-loving attorneys five grand.