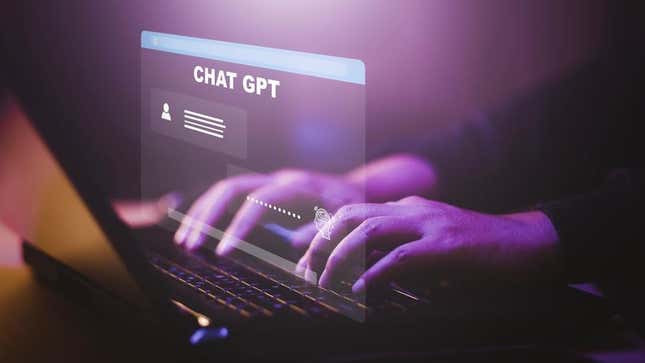 ChatGPT's explosion in popularity may have been short-lived as the number of website visits dropped for the third consecutive month, according to data released by Similarweb on Thursday. OpenAI's ChatGPT took off in November of last year, surpassing 100 million users but started its decline in March, dropping from 8.7 minutes users spent on the site to seven minutes by August.

Why is Everyone Suing AI Companies? | Future Tech
In June and July, the number of active users on ChatGPT dropped by nearly 10% each month but started to stabilize a bit in August, leading experts to think students going on summer vacation contributed to the drop. Similarweb reported that ChatGPT users dropped by 3% globally in August, but website visits in the U.S. increased by a modest .4%.
"One theory about why ChatGPT's web traffic dropped over the summer is that school was out, which would help explain why the traffic trend stabilized in August as schoolchildren in the US were back in class in greater numbers toward the end of the month," the report said.
ChatGPT is primarily used by college-age individuals, Similarweb documented in its August report, saying they make up more than a quarter of adults using the AI tool.
"Students seeking homework help appears to be part of the story," David F. Carr, a senior insights manager at Similarweb told Reuters. He continued: "The percentage of younger users of the website dropped over the summer and is now starting to bounce back."
Undergraduate and graduate students are increasingly using ChatGPT, according to a separate survey conducted by Intelligent.com. The survey questioned 1,223 students; 30% said they had used ChatGPT for their schoolwork in the 2022-2023 academic year.
While the surveyed group is small, teachers have expressed concern that a majority of their students use ChatGPT in some capacity and have implemented software into the classroom to detect if an assignment was completed using AI. Other schools have even gone so far as to add guidelines to the application process, with the University of Michigan Law School saying that "applicants ought not use ChatGPT or other artificial intelligence tools as part of their drafting process."
When OpenAI released the ChatGPT tool, it quickly became one of the fastest-growing apps in history. One factor contributing to its decline could be that it's becoming increasingly inaccurate. Research conducted by Stanford University and UC Berkeley found that in March, GPT-4 could identify prime numbers with 97.6% accuracy. The same study carried out in June found that its accuracy plummeted to a shockingly low 2.4%.
The researchers noted that more studies need to be conducted, but wrote: "The behavior of the 'same' [large language model] service can change substantially in a relatively short amount of time."
There's also the fact that OpenAI faces more competition in the chatbot space on an almost daily basis. Just yesterday, Anthropic introduced a paid tier for its Claude chatbot at the same $20/month price point as ChatGPT.
OpenAI did not immediately respond to Gizmodo's request for comment.