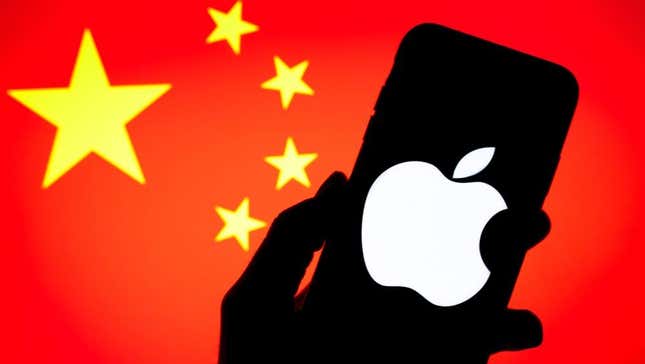 Central Chinese government officials are banned from using iPhones in the workplace, the Wall Street Journal reported on Wednesday. People familiar with the matter told the outlet that employees were notified of the ban in chat groups or meetings, and are prohibited from bringing iPhones or other foreign devices into the office.
Apple Unveils Its iPhone 15 and Apple Watch Series 9
The country's shift to ban iPhones comes only one week before an Apple event where the company will announce the launch of its next line of iPhones. The ban also comes after Apple CEO Tim Cook visited the country in March to meet with China's Minister of Commerce, Wang Wentao, where they reportedly discussed stabilizing Apple's local industrial and supply chain.
"The two sides exchanged views on issues such as Apple's development in China and the stabilization of the industrial and supply chains," China's Ministry of Commerce told CNBC at the time. Following the meeting, Cook told The Paper news outlet: "Innovation is developing rapidly in China and I believe it will further accelerate," Reuters reported.
Yet only five months after that meeting, China has banned the government from using or having iPhones at work, but The Journal reported that it remains unclear how many officials are affected by the ban or why the mandatory ban was put in place. However, it does reflect similar bans the U.S. has put in place against the China-owned app TikTok and Huawei Technologies citing national security concerns.
The Council on Foreign Relations reported that concerns over Huawei Technologies stem from "accusations that Beijing could use its 5G infrastructure for espionage," while experts warned that growing tensions could result in a "digital iron curtain," forcing foreign governments to choose between the U.S. or China when deciding whether to uphold business dealings.
China has repeatedly worked to restrict exports of gallium and germanium to other countries that are used to manufacture semiconductors after the U.S. put strict export controls on microchip exports alongside Japan and the Netherlands.
As tensions continue to rise, China has vowed to "cut the country's reliance on foreign technology," The Journal reported, with Apple appearing to be its next target as Huawei released its new smartphone this week. The model reportedly has advanced microchip capabilities using technology developed in Europe. Huawei reportedly sidestepped trade restrictions to get the software needed for its new smartphone.
Dan Hutcheson, an analyst with TechInsights, told Reuters the development is a "slap in the face" to the U.S. He referenced U.S. Commerce Secretary Gina Raimondo's visit to China last week, and added: "Raimondo comes seeking to cool things down, and this chip is [saying] 'look what we can do, we don't need you.'"