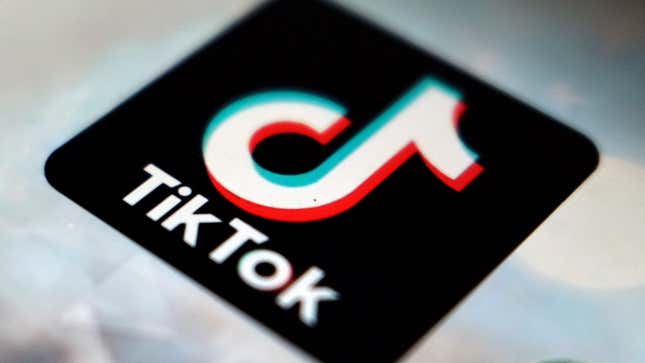 The Big Apple is joining the TikTok ban bandwagon. New York City issued a new directive on Wednesday banning TikTok from city-owned devices and forcing local agencies to remove the app from its phones and tablets within 30 days. Starting today, anyone using a city-owned device or network is prohibited from downloading the app or accessing it via website.
Mourning the Loss of Addison Rae's Debut Album | The Meme Machine
A City Hall spokesperson confirmed the new restrictions to Gizmodo and said they come on the heels of a review by New York City's Cyber Command which determined the app "posed a security threat to the city's technical networks and directed its removal from city-owned devices."
"While social media is great at connecting New Yorkers with one another and the city, we have to ensure we are always using these platforms in a secure manner," the spokesperson said. "NYC Cyber Command regularly explores and advances proactive measures to keep New Yorkers' data safe." TikTok did not respond to Gizmodo's request for comment.
The New York City ban is particularly notable, in part because the city NYC is home to Alexandria Ocasio-Cortez and Jamaal Bowman, two of the app's most vocal defenders on Capitol Hill. The lawmakers, who have a combined 1.2 million TikTok followers, have opposed recent efforts to ban the app nationally, with Ocasio-Cortez describing the effort as "unprecedented." In fact, Bowman was one of several lawmakers who went to bat for the app during a rally in D.C. earlier this year featuring prominent creators from around the country. It was later learned TikTok paid for the creators' travel expenses.
At least 35 states, including New York, have already taken some action against TikTok, limiting access to the app on state-owned devices. Though the vast majority of those states have focused primarily on supposed security risks with TikTok on government networks or devices, Montana recently went a step further and took the unprecedented step of banning the app on private devices statewide. TikTok and a handful of Montana-based video creators have filed lawsuits attempting to strike down that law on First Amendment grounds.
New York state was actually one of the first states to block the app on government-issued mobile devices, doing so in 2020, though with some exceptions for state public relations operations. That ban preceded the renewed bipartisan call to ban the app on devices nationwide.