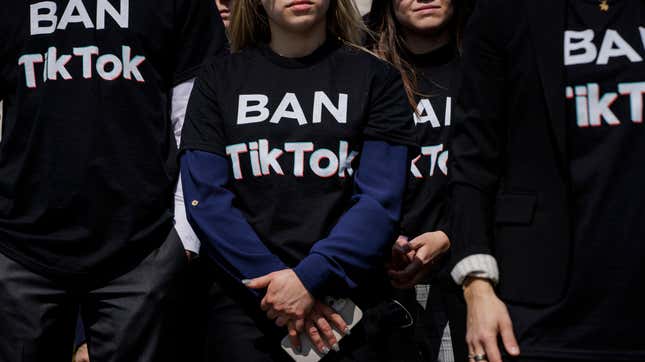 U.S. government efforts to ban TikTok over national security grounds, once considered a pie-in-the-sky pipe dream, are looking more and more likely by the week, especially after Congress browbeat TikTok's CEO for five hours last week. That said, we've been here before. Various players in the federal government have attempted to ban TikTok before, all unsuccessfully.
In just three short months, at least four new bills have reached the House and Senate demanding, in various forms, a national ban of the Chinese-owned app. TikTok is already banned on all federal government devices. More and more states have passed laws doing the same thing on a local level. These new sets of bill would take things much further, however, and essentially excise an app TikTok says is currently used by 150 million Americans—one in two people in the nation. That backlash to such a ban is difficult to imagine.
Though support for the bans has increased, the rationale behind it remains as obtuse as ever. Lawmakers and officials, for years now, have warned the Chinese government could sneakily use TikTok to harvest US users' data which they say could harm national security. "Could" and "Might" are the keywords here. To date, the US government has yet to provide any concrete evidence backing these claims.
That said, TikTok definitely hasn't done itself any favors. The Department of Justice is currently investigating TikTok over claims it spied on three former BuzzFeed reporters in the company's investigation of an internal leak. Former employee whistleblowers, meanwhile, have said TikTok's plans to secure US user data in Oracle servers simply don't go far enough, with one saying only a "complete re-engineering" of the app would be necessary to meet lawmakers' demands. Another former employee, writing in a letter sent to ByteDance by Missouri Sen. Josh Hawley's office, alleged TikTok and its Chinese parent company ByteDance are "functionally the same company."
So here we are, with a national TikTok ban or forced sale looking all the more likely. Below are all of these legislative efforts so far vying to make that a reality.