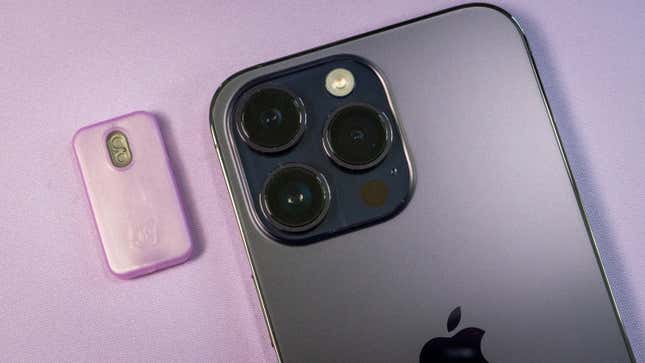 Are you already entirely up to date with all the iPhone 15 rumors ahead of its expected debut next month? Well, don't let the impending release stop you from squinting at the product IDs for Apple's processor series two years in advance.
Apple Unveils Its iPhone 15 and Apple Watch Series 9
As first spotted by Wccftech, noted iPhone leaker @_orangera1n posted leaked ID numbers for Apple's upcoming chips on Twitter. This appears to be the A19 Bionic for iPhones and the M5 chip for Macs. Apple is currently expected to show off its A17 Bionic chip for the iPhone 15 series, while the company's proprietary M3 line will likely see play on the company's MacBook Pros and MacBook Airs.
Any M5 will likely have multiple variations. Currently, the M2 has "Pro," "Max," and "Ultra" variants that scale from thin laptops to full industry-first desktop computers. Meanwhile, the Bionic chip series already performs well above Android alternatives on most benchmarks, though the A17 Bionic is expected to be the company's first-ever 3nm processor.
Of course, Apple is regularly planning ahead for its tech. These IDs aren't showing us anything other than the identifier tags for the upcoming chipsets. However, there are a few more details still trickling out for the iPhone 15. There have already been rumors that Apple could change the name of its larger-sized Pro Max phone brand to "Ultra." Andrew O'Hara from AppleInsider reported based on "multiple sources" that the name change rumor was indeed going into effect.
In addition, the iPhone 15 Pro and iPhone 15 Ultra would both make use of the 3mn A17 Bionic chip. The two phones could also gain a 10x periscope telephoto lens compared to the current 12-MP 2X telephoto on current iPhone 14 Pro models. Compare that to older reports from noted Apple analysts like Ming-Chi Kuo and Jeff Pu who noted the new lens would be a 5x or 6x periscope exclusive for the largest version of the upcoming iPhone, so this latest camera rumor should be taken with extra salt.
Just as well, O'Hara added extra veracity to rumors both premium models will have expanded screens and an "Action" button in place of the mute toggle. Both should have titanium frames instead of the usual aluminum.
---
Want more of Gizmodo's consumer electronics picks? Check out our guides to the best phones, best laptops, best cameras, best televisions, best printers, and best tablets. If you want to learn about the next big thing, see our guide to everything we know about the iPhone 15. Click here to save on the best deals of the day, courtesy of our friends at The Inventory.