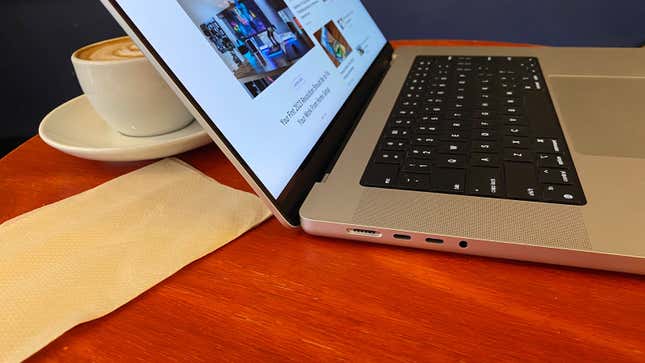 Apple is reportedly testing out just how much juice it can squeeze from its highly anticipated M3 processor, with the next M3 Max set to hold a surprising amount of graphical capability to power the company's next main laptop offering.
Buy Now or Wait? How to Avoid Tech Buyer's Remorse
Bloomberg's resident Apple aficionado Mark Gurman wrote late on Monday that Apple has an M3 Max-powered MacBook Pro on its docket for next year. It could easily be the most powerful MacBook we've seen from the company, and based simply on how the M2 line has fared, the next entry in the series would be a an absolute powerhouse of a laptop.
Bloomberg based their report on test logs from a third-party Mac app developer. This J514 model would sport a chip that includes 16 processing cores, 40 graphics cores, and 12 high-performance cores meant for demanding programs like video editing. In comparison, the M2 Max chip, Apple's current high-end CPU, contains 12 CPU cores and 38 GPU cores.
The next MacBook Air could likewise receive an M3 upgrad. Bloomberg reported Sunday the base M3, one that was being tested on a potentially new Mac mini will still only have eight CPU cores and 10 GPU cores, the same as the standard M2. We should be hearing much more about the M3 chip later this year, as it could be used for a new range of iMacs and potentially more entry-level laptops powered by the M2 Ultra or an M3.
The upgrade to previous versions of the Cupertino company's proprietary silicon would be hefty if implemented. The test model Apple was working on contained 48 GB of RAM, a new tier of storage compared to current MacBook Pro models, which come in 8 GB, 16 GB, 32 GB, and 64 GB.
Before the most recent WWDC, rumors suggested we would have a slate of new MacBooks to go along with the anticipated VR headset that ended up being the Vision Pro. Instead, the only new laptop design ended up being the 15-inch MacBook Air. For most intents and purposes, the device is essentially a 13-inch MacBook Air, just with an extended screen. There's nothing wrong with that, but it does little to excite the Apple fans, especially during a year when laptop sales have significantly declined.
And it's not just laptops. In its latest quarterly earnings report, Apple noted a slowdown in the US smartphone market as well. Laptops sales are still expected to decline this quarter, at least. The company also mentioned that any new Macs wouldn't drop until the fourth quarter of 2023, so we're likely looking at October for the earliest release window, just a month after the company is expected to show off its iPhone 15 line. Gizmodo reached out to Apple for comment, but we did not immediately hear back.
We've been waiting years for the big 3-nanometer M3 drop, which should be the biggest changeup in the company's desktop and laptop line since it changed over to proprietary silicon in 2020. Maybe Apple will eventually offer us OLED as well, but reports imply we won't see one for another two years, at least.