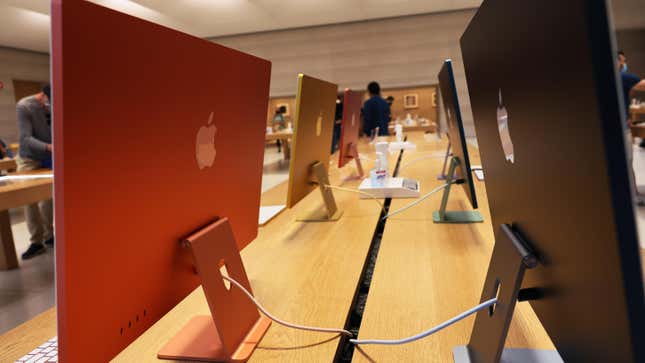 Good news for all those iMac fans pounding the table for another all-in-one device from Apple. One oft-cited Apple analyst said we may see another iMac drop later this year, coming much sooner than previously anticipated and potentially boasting an M3 chip.
Apple's Bigger-Screen 15-inch MacBook Air | Gizmodo Review
Mark Gurman's Bloomberg newsletter noted on Sunday that the next iMac is on its way, and that while Apple won't be ramping up production for another few months, we should see new iMacs hitting store shelves in the second half of this year. The analyst wrote the next iMac is "at an advanced stage of development" and production tests are underway.
The next Apple all-in-one desktop platform will remain at 24 inches, the same size as the current model, and will sport "a new M-series chip," replacing the 2021 edition's M1 processor. We still haven't seen any real hint of this M3-powered iMac, or of any real M3-powered devices, but we've been hearing rumors about the chip since 2021. We're also expecting a few other minor alterations to the older iMac's pretty solid design, making this latest version mostly seem like a faster iteration of what we already have, despite the over-two year gap in release.
Gurman's word has proved true on a number of occasions, but his latest prediction flies in the face of his previous report that the iMac wouldn't be coming until very late 2023, if not 2024. Previous reports had noted that the M3 iMac was slated for release this year. If true, this could be the first device to sport the new chipset, though it's unclear if Apple will put the latest M-Series processor in any of its other upcoming devices.
Gurman's newsletter also noted there's several more Apple laptop designs on the way, including a MacBook Pro that will reportedly be powered by an Apple-designed chip (namely the M2 Ultra), to complement the current 2023 MacBook Pros with M2 Pro and M2 Max chips. The Cupertino company is also supposedly aiming for a new, long-rumored 15-inch MacBook Air along with an updated 13-inch model. There's no word if Apple plans to adjust any of the internals (such as adding any kind of heat sink) on these newest ultra-light laptop devices, or if they will include any new or updated chipsets. The current MacBook Airs still run on a base M2, but Gurman speculated Apple may shove an M3 into the Air.
So will 2023 be the big year for the M3? With so many devices still running on last year's M2, and with other major upcoming releases like the widely anticipated mixed reality headset still relying on the same chipset, it's hard to say. The OLED iPad Pro will reportedly get an M3 chip, though Gurman said we won't see it until the first half of 2024. OLED MacBooks may not come until 2025 despite hopes of a 2024 release.
---
Want more of Gizmodo's consumer electronics picks? Check out our guides to the best phones, best laptops, best cameras, best televisions, and best tablets and eReaders. And if you want to learn about the next big thing, see our guide to everything we know about the iPhone 15.