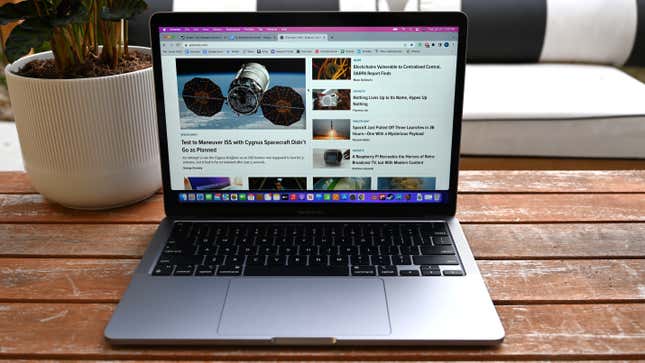 Supply chain analysts Ming-Chi Kuo and Ross Young have been embroiled in a bit of a back-and-forth about what's happening with Apple's display tech. But the consensus is that OLED panels are coming to the MacBook soon and will likely be the norm in the next couple of years.

Samsung Shows Off First LaserSlim OLED TV
The rumors started a few years ago when Kuo teased that the iPad would be the first big screen Apple device to showcase OLED. The rumblings recently picked up more steam after Ross Young tweeted in December that Apple would introduce a 13.3-inch OLED MacBook Air sometime in 2024. Kuo then posted today that he doesn't believe the move will happen until at least the end of 2024; while it's true that Samsung's OLED display shipments have "significantly increased" for the year, indicating that manufacturers are swarming to stock up on supplies, the so-called OLED revolution is still a ways away.
Kuo believes that Apple will launch an OLED MacBook before the end of 2024 "at the earliest." This slightly followed what Young had tweeted last month. Young also added the iPad Pro models would also have OLED panels, and that Microsoft will add OLED to the Surface.
In the long term, switching to OLED will be a boon for portable devices like the MacBook and Surface devices. Kuo reminds us that compared to Mini-LED, which is what many laptops use now, OLED has the advantage of being "thinner and more versatile" and lighter, too. It's sharper, more saturated, and offers higher refresh rates, which are hot right now as services like cloud gaming takes off on other platforms. Kuo adds that OLED laptops will "maintain rapid growth" in the following years, especially once Apple comes to market.
Anyone currently using a MacBook for everyday tasks is likely to be tickled by the news that the MacBook is getting sharper and higher res displays. While Windows laptops like the Dell XPS 15 and Lenovo Yoga Book already offer OLED display options, many folks prefer to work on macOS. On the PC and Android side, laptop and tablet makers must figure out how to keep upping the ante to make any other machine seem worth the cost in the coming years.