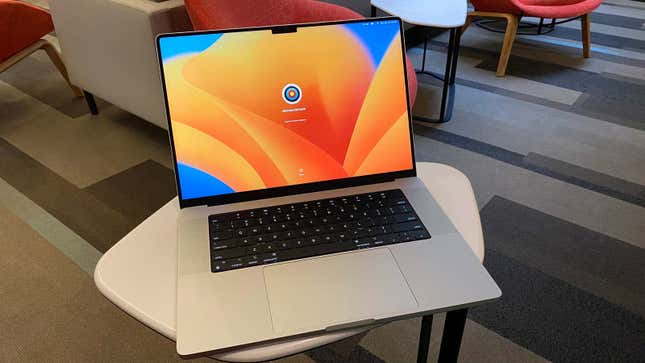 As we approach Apple's Worldwide Developers Conference next week, and the company's keynote presentation on Monday, June 5, more details about what will potentially be revealed are starting to surface, with the latest rumors indicating that on top of major software updates and Apple's long-rumored AR glasses debuting, we might be getting new Macs, too.
Apple's Bigger-Screen 15-inch MacBook Air | Gizmodo Review
Although WWDC is a software-focused conference, with developers coming from all around the world to attend workshops and schmooze, the event kicks off with a keynote headlined by Tim Cook, and is expected to include reveals for updates to iOS 17, iPadOS 17, macOS 14, and watchOS 10 (Bloomberg's Mark Gurman has previously stated that major updates to Apple TV's tvOS may not be part of Monday's event).
Apple has also long used its WWDC keynote to reveal new hardware, including the lastest generation of its processors, as well as its computers, with the M2-powered MacBook Air debuting at WWDC last year. After years of rumors, and even recent teases by Apple itself, it seems all but certain that we'll get our first good look at Apple's AR, or mixed-reality, glasses or headset on Monday. But according to a tweet by Bloomberg's Mark Gurman this morning, this year's WWDC keynote could be one for the record books, as Gurman also expects "several new Macs" to be revealed during the event.
A few weeks ago, in his Bloomberg newsletter, Gurman revealed that WWDC 2023 will likely include a reveal of a 15-inch version of the MacBook Air, although other Apple analysts believe it will be powered by the same M2 processor as last year's 13-inch MacBook Air—and not a new M3 processor. As to what other Macs might be revealed on Monday, Gurman's tweet didn't go into any details, but in another tweet from last week, he revealed that "Apple will start accepting trade-ins of the Mac Studio, 13-inch M2 MacBook Air and 13-inch M2 MacBook Pro on June 5th," although that's certainly not a definitive confirmation of what's enroute.
But new Macs could be just what Apple needs to turn around recent sluggish sales of the company's computers. According to an industry report released by research firm IDC back in early April, Apple's Mac shipments had dropped more than 40% in the first three months of the year compared to 2022, from 6.9 million to 4.1 million. But perhaps that's the reason Apple may be holding a new M3 processor reveal for another event, so that the news doesn't get lost in the WWDC shuffle, and the company can better promote and highlight its probable performance improvements and new features.
---
Want more of Gizmodo's consumer electronics picks? Check out our guides to the best phones, best laptops, best cameras, best televisions, best printers, and best tablets. If you want to learn about the next big thing, see our guide to everything we know about the iPhone 15. Click here to save on the best deals of the day, courtesy of our friends at The Inventory.