Emma Stone breaks down Gwen Stacy, The Amazing Spider-Man's love interest. The gritty Paradise Lost movie hits a snag. Robert Kirkman promises more death on The Walking Dead. Plus Andy Serkis talks the next Planet of the Apes movie!
Spoilers from here on out!
The Dark Knight Rises
Christopher Nolan talks about how he came to choose Bane as the villain, and why Tom Hardy was perfect to play him:
"I didn't know him very well. David Goyer got me a bunch of stuff on him and we looked into him. I only knew him by name, I wasn't familiar with his back story. He's a very cool character. And getting an actor like Tom to take it on, you know you're going to get something very special. Tom is somebody who really knows how to put character into every gesture, every aspect of his physicality in the way that great actors can. He's a very, very physical actor. He transforms himself and it's there in every movement. He's not afraid to look at a character from the outside as well as the inside so there's a deep psychological branch to the character but also a very, very specific awareness of how he's going to use his body and his appearance to express that character too. Christian [Bale] is like that too, very much."
He also explains why Bane is like a character out of an old school monster movie:
"With Bane, the physicality is the thing. With a good villain you need an archetype, you know, you need the extreme of some type of villainy. The Joker is obviously a particular archetype of diabolical, chaotic anarchy and has a devilish sense of humor. Bane, to me, is something we haven't dealt with in the films. We wanted to do something very different in this film. He's a primarily physical villain, he's a classic movie monster in a way — but with a terrific brain. I think he's a fascinating character. I think people are going to get a kick out of what we've done with him."
G/O Media may get a commission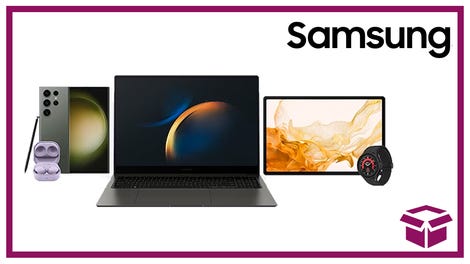 24 hour deals
Discover Samsung - Daily Deal
This is about as general as spoilers get, but in a brief piece on how Christopher Nolan felt emotional about completing all the characters' stories, it was mentioned that the movie's story was meant to be something "that would deliver a true finale and close the trilogy in a powerful and definitive way." So... expect a big ending, I guess. [UKPA]
---
The Amazing Spider-Man
Emma Stone explains how Gwen Stacy is different from Mary-Jane Watson:
"(Gwen) grew up on the Upper East Side (of New York), had a very stable family - a daddy's girl. Her father was the police chief. . . . She's the oldest in her family (and) she has younger brothers. She is very responsible and very protective of her family and she loves science; she is a valedictorian. She has her whole life planned out for her and then she gets to know Peter. . . . They teach each other so much, because they're from two so totally different backgrounds and experiences. . . . He's never really known sit-down family dinners with siblings and parents, and what it's like to grow up in one house your whole life, and be under the thumb of your father...And [Peter and Gwen are] first loves. So that alone will give you so much as a person."
Stone also explains why this movie has gone back to the early days of Spider-Man:
"One of the major reasons they wanted to tell this version of the story (is) to kind of get up close and personal with Peter and into the really intimate details of how he grew, not just into becoming Spider-Man, but how he grew to become the Peter Parker we see today — what his experience was as a child and what his relationship was with his father . . . and the story of Gwen Stacy, which we've never seen before cinematically. There are just a lot of elements that are really grounded and earthbound. They just happen to take place in this world where an ordinary boy becomes super-human. . . . That was definitely the draw for me wanting to be part of it. It felt like us sitting here talking, and you forget, in a minute, (he's) going to swing away. He just happens to be Spider-Man and things proceed from there that are extraordinary, but his actual outlook, his reasoning, his relationships, are right here on Earth with us."
The bit about "the story of Gwen Stacy" might imply this is a fairly concrete adaptation of her comic book arc - which, to put it mildly, did not end well for her. [Vancouver Sun]
---
Ghost Rider: Spirit of Vengeance
Here's a poster. [First Showing]
---
Rise of the Planet of the Apes Sequel
When asked whether James Franco and Frieda Pinto's characters would survive the virus and make it to the planned sequel, Andy Serkis offered this cryptic answer:
"As yet, who knows? No one really knows the nature of the sequel for sure. It's all being evolved as we speak. I don't even think there's a script at this point. But I'm deeply excited to see where it all goes. We all are. Obviously at the end of Apes, it's perfectly set up for the ascendancy of the species. Where we go from there should be rather extraordinary."
Regarding the fate of the lost Icarus mission, a callback to the original Charlton Heston movie which represented a tiny subplot in Rise of the Planet of the Apes, Serkis would only say this:
"All I know is that I'm in it, which is good. But I'm not exactly sure the avenues they will pursue. But that is one element they made an effort to include."
[IGN]
---
Paradise Lost
Calling into question my long-held contention that kids love the John Milton, Legendary Pictures has reportedly postponed the Alex Proyas directed, Bradley-Cooper-starring-as-Lucifer adaptation of the classic poem, supposedly because the thing had ballooned far past its completely reasonable $120 million budget to an utterly ludicrous $140 million. The producers will reportedly allow filming resume once they restore a little fiscal sanity — "a little" being the operative phrase there. [The AV Club]
---
Riddick 3
Vin Diesel has revealed another piece of concept art for a creature that will appear in the third film. [Comic Book Movie]
---
Frankenweenie
Producer Allison Abate discusses Tim Burton's process in adapting his 1982 short to the big screen:
"Tim always wanted to make it into a feature and into an animated feature. We had to open the story up a little bit. Pretty much, the whole first act is like the short. We meet Victor and his beloved dog, Sparky. There's a terrible car accident tragedy and the dog gets killed. Of course Victor, being a clever guy, figures out how to reincarnate him. Where the story diverges is that Victor is now desperate to keep his dog a secret. He doesn't really know if what he's done is a great thing. He doesn't tell his parents and he doesn't tell his school friends... Of course, the other kids at school get wind of it and kind of want in. It's been fun making these kids. What would Boris Karloff in 'The Mummy' actually be like at 11 years old? What is Igor like as a 12 year old kid?"
And art director Tim Browning discusses the movie's setting, the town of New Holland:
"[Our setting] is a California suburb sometime between 1965 and 1975. There's no real specific date but, from a design point of view, you approach it much the same as any other period drama. You do the research and try to find all the details of the architecture. Of course, on a project like this we have the luxury of making everything and having complete control. In live action, you have to rely very heavily on locations, purchased props and hired props. Here, you make every single thing."
There's more at the link. [ShockTillYouDrop]
---
Indiana Jones 5
While Steven Spielberg has suggested they have already found the movie's MacGuffin along the lines of the Ark of the Covenant, the Holy Grail, the crystal skulls, and whatever the hell was supposed to be important in Temple of Doom. (Some stones, I think?) Anyway, when asked for an update, George Lucas suggested they weren't quite so far along, and had instead simply decided on a general setting:
"I mean, I know what it's about, but I just have to find a MacGuffin that fits into the arena we're working in."
[Vulture]
---
Untitled Angelina Jolie Sci-Fi Movie
Angelina Jolie is reportecly close to signing on for a new movie by Luc Besson, described as a "large-scale dramatic thriller" that is "rooted in true scientific elements", and which recalls Besson's earlier efforts like The Fifth Element and The Professional. [Deadline]
---
Underworld: Awakening
Here's a new promo image. [SpoilerTV]
---
Doctor Who
Here's another trailer for the Christmas special, "The Doctor, the Widow, and the Wardrobe." [Life, Doctor Who, and Combom]

---
The Walking Dead
Robert Kirkman talks about how they built in the midseason break into the overall structure of the second season, as well as what to expect after the hiatus:
I will say that it's kind of fun. We knew that the break was coming in this season, so we wrote to it. So the first half of this season that everybody has seen does kind of fit as an arc. Everything was deliberate and it was kind of cool to end with the Sophia reveal. (I hope I'm not spoiling anything for people who are behind.) Coming into the second half of the season I think that we kind of hit the ground running, and there's a lot of stuff going on. I actually just watched episodes 11, 12 and 13 to review them, and it's just non-stop all kinds of cool stuff. I can't reveal much, but I will say that when we come back in February the first episode back has the best ending that I've thus seen. I was just super-thrilled when I got to that. It's just gonna be really cool stuff. We're gonna be introducing some new elements and some new characters, and some big things that you may not be expecting. It's gonna be pretty awesome.
He also discusses the rumors of an upcoming major character death, basically saying that it's inevitable on a show like this:
You know, it's The Walking Dead. I'm not gonna guarantee it, but I'm gonna say that it's safe to… People are gonna die. Whether they're gonna be main characters I can't really say. I don't know what people consider to be a main character, but there are human characters on the show that will be not surviving. By the end of this season… We start with a cast on our second season, and we will end with a somewhat different cast. That's kind of what The Walking Dead is. So we'll see.
[fearNET]
---
Game of Thrones
Peter Dinklage gives the second season the official Peter Dinklage Seal of Approval™, which is pretty much all I need:
"It's a great season. I was opposed to doing TV for a long time because I thought the quality of writing wasn't very strong, as opposed to film, but there's been a shift in term of the quality of scripts. HBO has attracted a tremendous amount of great writing talent."
---
True Blood
The fifth season will reportedly feature a flashback to San Francisco in the 1950s. [E! Online]
---
Terra Nova
Here's the first promo for the two-part finale, "Occupation" and "Resistance." [Terra Nova TV]

---
Chuck
Here are two sneak peeks for this Friday's episode, "Chuck vs. the Curse."

And here are interviews with stars Zachary Levi and Ryan MacPartlin along with guest star Rebecca Romijn.

And here's the synopsis for the episode:
CHUCK VERSUS THE CURSE (TV-PG) A CASE OF MISTAKEN IDENTITY GIVES ELLIE AND AWESOME A DATE NIGHT THEY WILL NEVER FORGET - REBECCA ROMIJN GUEST STARS – Chuck (Zachary Levi) and Sarah (Yvonne Strahovski) race against time to take down a dangerous computer virus, pitting them against Robyn Cunnings (guest star Rebecca Romijn), a ruthless spy who will stop at nothing to get what she needs. Meanwhile, Ellie (Sarah Lancaster) and Awesome's (Ryan McPartlin) date night takes a dangerous turn and Morgan (Joshua Gomez) is sent on a special mission to recover Chuck's P.A.N.T.S. Adam Baldwin also stars.
---
Once Upon a Time
Sheriff Graham is definitely dead and gone, although actor Jamie Dornan could return to the show as his fairy tale alter ego, the Huntsman. In the meantime, Jennifer Morrison tweeted that "It will be hard for [Emma] to ever open her heart again" after the Sheriff's death. Instead, Emma will find herself competing for the open position of sheriff against Giancarlo Esposito's newspaper editor Sydney. [E! Online]
---
Grimm
The show is looking to cast "a beautiful and tempting fire dancer named Ariel, who is a Daemonfeuer", which is a dragon-like beast. [E! Online]
---
Supernatural
The show is reportedly casting a character called Nora, "a well-meaning and hardworking Wiccan who's a little bewildered by the darker side of evil." Another casting notice is "a troubled postal worker who has something in common with...more to him than meets the eye." [E! Online]
Here are some set photos. [SpoilerTV]
---
American Horror Story
An upcoming episode will feature Tate trying to prove his love for Violet in "a very traditional way." [E! Online]
All the ghosts will try to attend the birth of the Harmon babies, and the weird redhead twins will also return to wreak havoc in the house. For a bunch more tidbits about tonight's episode, check out the link. [TV Guide]
---
Additional reporting by Natalie Baaklini and Charlie Jane Anders.