Lupita Nyong'o gives us our first story details for Black Panther. James Gunn confirms a certain Guardians of the Galaxy Volume 2 cameo. Meet the extended cast of Moana. Plus, a new look at the Joker in Suicide Squad, and behind-the-scenes on Legends of Tomorrow season two. Behold, Spoilers!

Black Panther
Lupita Nyong'o reveals the basic premise of the movie, during an interview in Marvel's Comic-Con livestream:
The story of this Black Panther - what I am allowed to say - is that Black Panther's leadership has been threatened by two foes who come together, and so Black Panther gets the help of the C.I.A. and the Dora Milaje to try and defeat the enemy.
[Collider]
Ryan Coogler says the film is partially influenced on the current run of the comics, written by Ta-Nehisi Coates:
Oh, I love it, man. I mean, he's my favorite writer right now in the world. Since being turned on to his work, I'm reading everything that he does. His nonfiction work, especially. But what he's doing with 'Panther' is just incredible. You can really see his background as a poet in some of the dialogue. And what Brian Stelfreeze is doing with the visuals in that book. And some of the questions that it's asking. It's just inspiring for [co-screenwriter] Joe Robert Cole and myself.

What's so great about Panther is he's a superhero who, if you grab him and ask him if he's a superhero, he'll tell you, 'No". He sees himself as a politician, as a leader in his country. It just so happens that the country is a warrior-based nation where the leaders have to be warriors, as well, so sometimes he has to go fight. I think starting at that is really so interesting. If you look at that, anything that's happening in the world right now, or in the world in the past, in the political realm and how people deal with each other, it can be an inspiration.
G/O Media may get a commission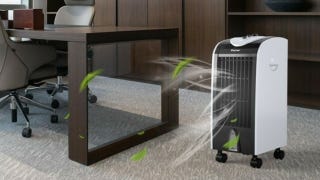 Save $10
Evaporative Portable Air Conditioner Cooler with Filter Knob
[Vulture]
---
Moana
Jermaine Clement, Alan Tudyk, Rachel House, Temeura Morrisson and Nicole Scherzinger will be voicing the film's supporting characters.
Clement will play Tamatoa, a giant crab who lives in Lalotai, the realm of monsters, and Tudyk plays Heihei, a clumsy rooster who stows away on Moana's canoe. House, Morrison, and Scherzinger will portray Moana's family: House plays Gramma Tala, Moana's grandmother, Morrison Chief Tui, her gregarious father, and Scherzinger Sina, Moana's mother. Head on over to the link to see pictures of the new characters. [USA Today]
---
Evil Dead 4
The possibility for a new movie is back on the table, according to Bruce Campbell.
One feeds the other. The movies were dead. Now the TV show comes back, the movies come back to life. It's funny how that works.
[/Film]
---
The Flash
Kiersey Clemons has now been confirmed as Iris West, following earlier reports. [Variety]
---
Doctor Strange
Benjamin Bratt is in the film, according to the poster revealed at Comic-Con. [MCUExchange]
---
Guardians of the Galaxy Vol. 2
James Gunn has confirmed that Sylvester Stallone is indeed in the movie, speaking on Facebook:
YES, SYLVESTER STALLONE IS IN THE FILM

This was an amazing experience for me, considering I ran around in my backyard as a kid pretending I was Johnny Rambo. Working with Sly was one of the high points of shooting Vol. 2 for me.

Who does he play? Well, I can't reveal that quite yet… but we do see him interacting with Yondu in the teaser.
---
Thor: Ragnarok
Karl Urban posted a photo of himself gearing up to play Skurge, complete with a new haircut.
---
Suicide Squad
Here's another picture of Leto's Joker on the cover of Empire. [CBR]
---
Let's Be Evil
New stills from the augmented reality horror film have been released. Find more at the link. [Shock Till You Drop]
---
Agents of SHIELD
Lili Birdsell to recur as Lucy, a "violent" and "beautiful" woman with connections to Ghost Rider. [Deadline]
Speaking at a Nerd HQ panel for the show, when asked which character he'd most like to appear on the series, Clark Gregg answered:
Because it was one of my favorite comics as a teen, I would have said Daniel Rand— Iron Fist — but suddenly, there's a gigantic invisible forcefield barrier called "Corporate"...Corporate Stuff. Unless, who knows, maybe we will develop a weapon that will break through that and get me over to Netflix for a minute. But if that barrier came down, then God knows I'd want go talk to Luke Cage.
He later offers a glimmer of hope that the show's new timeslot might help better accomodate potential crossovers with the Marvel Netflix shows, quipping:
At some point, I think it will start to cross more. Now that we're at 10 O'Clock, we're heading in a darker direction, which means it will fit a little bit better with the other properties. So there's going to be lots of crossovers this year with Netflix!
Check out the full interview below.
---
The Originals
Neil Jackson is joining the cast for season four and will play a vampire named Alistair. [TV Line]
---
The Deep
Freeform has ordered a pilot about "dark mermaids", according to Freeform EVP Karey Burke:
The Deep is a very different show than one would expect when they hear the word 'mermaid' – the mermaid tale has been reinvented in this pilot. The writing is thrilling, stories complex and scary, and we are excited to explore the themes of obsession and violence through these amazing creatures.
[TV Guide]
---
Doctor Who
The BBC have confirmed filming for the second episode of season 10 takes place in Valencia, Spain:
In a roundabout way, they've also confirmed that actor Ralf Little will appear on the show with a new short video.
---
Legends of Tomorrow
Finally, A few new behind-the-scenes pictures of filming have hit the web, of the Legends blending into '40s New York.
---
Additional reporting by Gordon Jackson. Banner art by Jim Cooke.