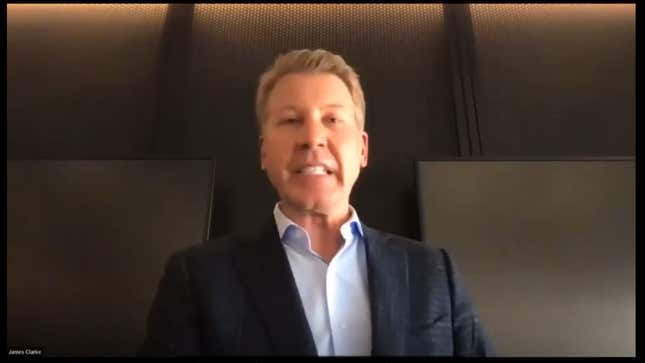 Meet the new hero of hustle culture: James Clarke, CEO of Clearlink, a Utah-based digital marketing company. This champion of capital had his grindset on lock in a video call with employees last week.

A Transformer Is Headed to the Moon
"I challenge any one of you to outwork me, but you won't," he told his staff in a virtual meeting meant to address a forced return-to-office for Clearlink workers living within 50 miles of the company headquarters, as first reported by Vice News. "I'm all in on what we're doing here at Clearlink, and I want you to know it and feel it," he added as part of his no-holds-barred screed to staff, which was recorded and posted to Reddit and YouTube a few days ago. The video was removed from the internet after Clearlink apparently filed a copyright complaint. However, Vice obtained and re-posted an edited version of the footage on Wednesday.
First, some background: On April 3, Clarke notified employees via email that anyone living within 50 miles of his company's Draper, Utah headquarters would need to start showing up at the Clearlink office four days a week beginning April 17. This came just a few months after the company assured staff that there were "no plans to require anyone to work in the new Draper office," in an internal October email excerpt included in the Vice report.
But then, the company execs changed their minds. Of the return-to-office policy, the company wrote "leadership believes this is the best decision at this time to ensure the near and long-term success of the company," in an additional internal document viewed and excerpted by Vice. Employees, many of whom were reportedly hired on the understanding that their jobs would be permanently remote, were predictably unenthused and confused by the change. Hence, the need for an all-hands address from the top exec.
The off-the-rails recording of the CEO was seemingly meant to assuage concerns about the remote vs. in-person work policy reversal. But the overall message isn't so reassuring. In the video, Clarke levies some big accusations at his staff. Among them: that 30 remote employees had entirely stopped logging on in a "quiet quitting" coup. He expressed suspicions that some of Clearlink's developers had been holding down positions at other companies without Clearlink's knowledge. He told content writers they should be using AI to increase output "30-50 times our normal production."
But hey, let's not forget the positives. In a well-earned celebration of one employee's efforts, Clarke implied that staff should go as far as getting rid of beloved animal companions to better serve Clearlink. "I've sacrificed, and those of you that are here have sacrificed greatly to be here as well—to be away from your family," he said (presumably addressing the present and accounted for, in-person workers). "I learned from one of our leaders that, in the midst of hearing this message, [someone] went out and sold their family dog," the CEO then said.
Mixing the message a little bit, Clarke added that the dog anecdote "breaks my heart, as someone who's been at the head of the humanization of pets movement in other businesses that we've built." (For reference: Clarke spent 10 years on the board of the company PetIQ, which sells pet care products and veterinary services, according to the CEO's LinkedIn page.) But still, such sacrifices are apparently a necessary and laudable part of excelling at Clearlink.
Unfortunately for Clarke's company and the working mothers it employs, human children are not as easily dispatched with as family pets. In a section of the meeting concerning childcare challenges, Clearlink's CEO openly questioned the ability of mothers—yes, specifically mothers—to both offer adequate value to the company and their kids.
"Breadwinning mothers were hit the very hardest by this pandemic. Many of you have tried to tend your own children and in doing so also manage your demanding work schedules and responsibilities. And while I know you're doing your best... one could argue this path is neither fair to your employer, nor fair to those children," Clarke opined.
"I don't necessarily believe that," he immediately backtracked before flip-flopping again and doubling down. "But I do believe that only the rarest of full-time caregivers can also be a productive and full-time employee at the same time. You may take issue with any part of this, but I believe the data will also support this in time."
Note: Utah has laws in place that outlaw employer discrimination against workers related to pregnancy and childbirth status and conditions. However, the state doesn't have any provision on the books protecting caregivers from workplace discrimination (unlike New York City).
Amid all of this, Clarke also managed to reference that he is "an alumn" of Harvard and Oxford, schools which, in his words, were "founded and operated under the Judeo-Christian ethic." Then, he threw in his own feelings of persecution: Lambasting diversity, equity, and inclusion efforts and accusing unnamed Clearlink staff of making fun of his religion and likening him to a "convicted Wall Street felon" (Gordon Gekko, per Vice).
"I took it and I listened and I was kind and I responded with kindness, but no more," Clarke reportedly said in a video segment viewed but not re-published by Vice. "You have misinterpreted my kindness for weakness. You have continued to do so, and it will stop," he added, rather ominously.
Gizmodo reached out to Clearlink to verify the recording and get more information on the company's stances and policies. But Clearlink did not respond as of publication time. To Vice, the company said the recorded meeting was an internal matter, and reiterated that the return-to-office push would help Clearlink reach its "collective goals."
"We look forward to having these team members join us at our new world-class Global Headquarters in Draper, UT and appreciate the efforts of all of our committed team members–which includes those who work in office and those who will continue to work remotely–as we accomplish our best work together," company spokesperson Layne Watson told the outlet.
Of course, Clearlink is in good company with its push to get back to in-office toil. Tech giants like Meta, Google, and Apple have all also rescinded their pandemic-era work-from-home policies—despite mounting evidence that remote employees may actually be more productive. But the CEO wants what the CEO wants. And if the CEO suggests getting rid of your dog to accommodate your work schedule, know that a true corporate devotee wouldn't bat an eye.