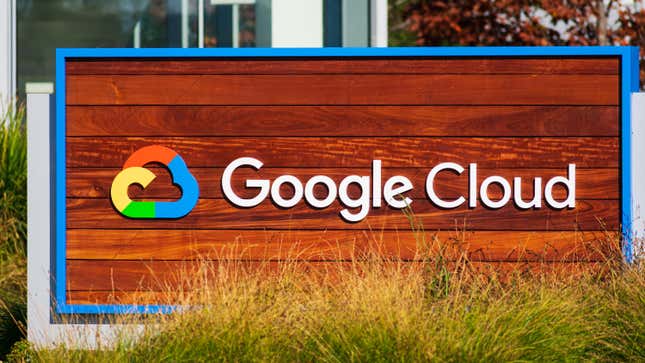 Google, a company once known for its lavish and borderline absurd in-office perks like endless free meals and snacks, massages, yoga classes, and designated recreation areas, has fallen on hard times. Now, the most standard of office equipment will apparently be in short supply for some of the tech giant's workers.

Google's Antitrust Case Is the Best Thing That Ever Happened to AI
In the company's Cloud division, Google is cutting down on office space, and has told employees they will need to share desks, according to a CNBC report based on an internal FAQ document viewed by the outlet. At five of Google Cloud's largest U.S. offices: Kirkland, WA; New York City; San Francisco; Seattle; and Sunnyvale, CA, some workers will be required to rotate desks on a pre-set schedule.
Previously, Google (like many other tech companies) had moved away from pandemic-era work from home flexibility to required in-office time. At first, the tech giant encountered a few false starts. Google tried to make the change in 2021, but rising covid-19 cases caused delays. Then, the Alphabet-owned company announced that employees had to return in-person at least three days a week, beginning in spring 2022—with executives gunning to eventually scrap hybrid work altogether, in favor of 100% office attendance.
Yet the three day strategy seemingly hasn't worked out as the executives hoped. Instead of continuing to enforce that policy, Google is taking the opportunity to cut costs and save on office real estate by shifting to a two day per week hybrid work model, at least for its Cloud sector employees.
Under the new policy, the company's cloud team will be assigned in-office days of either Monday and Wednesday or Tuesday and Thursday. Workers from each set will share a desk that each uses on their different assigned days. Google staff will have the option to come in more than their assigned two days per week, but if they choose to, they'll be relegated to an "overflow drop-in space" and won't have access to their regular desk, per CNBC.
"Most Googlers will now share a desk with one other Googler," the document said, per CNBC. "Through the matching process, they will agree on a basic desk setup and establish norms with their desk partner to ensure a positive experience in the new shared environment."
In response to Gizmodo's emailed questions, a Google spokesperson sent the following statement:
Since returning to the office, we've run pilots and conducted surveys with Cloud employees to explore different hybrid work models and help shape the best experience. Our data show Cloud Googlers value guaranteed in-person collaboration when they are in the office, as well as the option to work from home a few days each week. With this feedback, we've developed our new rotational model, combining the best of pre-pandemic collaboration with the flexibility and focus we've all come to appreciate from remote work, while also allowing us to use our spaces more efficiently.
However, what this corporate blurb fails to mention is that, by having employees rotate desk space, Google will be able to minimize its real estate footprint. In the FAQ distributed to Cloud workers, the company noted that "some buildings will be vacated" as a result of the change, according to CNBC. Further, the company reportedly said that the move to downsize will allow Google to "continue to invest in Cloud's growth."
The company hinted at its plans to shrink its real estate holdings in its 2022 fourth quarterly report. "We are taking actions to optimize our global office space. As a result we expect to incur exit costs relating to office space reductions of approximately $0.5 billion in the first quarter of 2023," Google noted. Earlier this month, SF Gate reported that the company planned to offload leases in San Francisco.
Cloud workers make about a quarter of Google's full-time staff. Yet even so, the division isn't profitable. In the company's most recent quarterly report, Google noted nearly half a billion dollars in losses associated with the Cloud unit.
More generally, the company has been grappling with the same headwinds as most other tech firms. In another major corporate austerity measure, Google laid off about 12,000 employees in January—among them, the company's director of mental health and well being. And, like the return to office push, the layoffs haven't exactly been smooth sailing—with some employees being sent inaccurate descriptions of their severance packages.