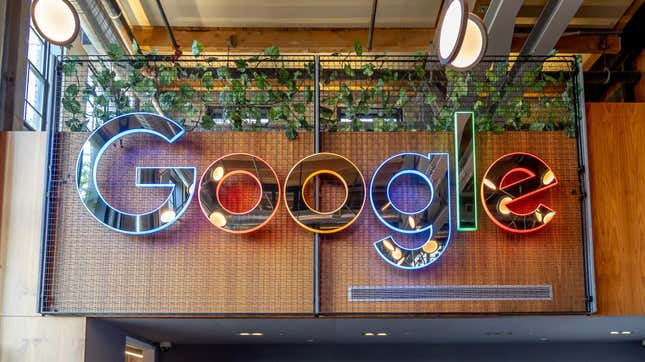 Google told employees in an email on Friday that it would be cutting 12,000 jobs, or 6% of its global workforce, in its largest layoff ever.
Google's Antitrust Case Is the Best Thing That Ever Happened to AI
In the email, CEO Sundar Pichai told employees that Google had hired aggressively over the past two years to match the dramatic growth it had experienced after the onset of the coronavirus pandemic. Alphabet's headcount had increased 24% from 2021 to 2022, growing from 150,028 to 186,779, the company said in a September regulatory filing. However, much like other tech companies, the company now finds itself facing a different economic reality, Pichai explained, which forced it to make tough choices.
Employees affected by the layoffs in the U.S. have already received a notice in their emails. International employees may have to wait longer to find out if they were affected due to local laws.
"The fact that these changes will impact the lives of Googlers weighs heavily on me, and I take full responsibility for the decisions that led us here," Pichai said, adding that the company would be hosting a town hall on Monday to answer questions from employees.
The cuts will affect people across Alphabet, Google's parent company, and are a result of a "rigorous review" that aimed to ensure the company's workforce was in line with its highest priorities. One of those priorities is AI, according to Pichai's email.
The Google CEO went on to share the details of the company's severance packages for employees in the U.S. Google will pay employees during the layoff notification period, which will encompass a minimum of 60 days, and offer 16 weeks of salary plus two weeks for every year they worked at the company.
Google will accelerate at least 16 weeks of GSU vesting, or stock awards, and also pay out 2022 bonuses and remaining vacation time. The subject of bonuses has recently caused confusion at Google, which typically pays out bonuses in full in January. However, this year it will pay out 80% of bonuses in January and 20% in March, a sign the company was looking to cut immediate costs. After 2023, the company will pay out full bonuses in March, CNBC reported.
In terms of health care, Google will provide laid off employees with 6 months of coverage. In addition, it will offer job placement services and immigration support. While Pichai did not offer specifics on severance packages for international employees, he said that they would be "in line with local practices."
Pichai's announcement comes a little more than a week after Verily, an Alphabet subsidiary focused health care and technology, said it would be cutting more than 200 employees, or 15% of its workforce. Intrinsic, a robotics software company also part of Alphabet, also revealed it was laying off 40 employees earlier this month, according to the Wall Street Journal.
Although the email to employees delivered bad news, Pichai tried to reassure employees that Google had a "huge opportunity" ahead, partially due to its early investment in AI.
"Thanks to those early investments, Google's products are better than ever. And we're getting ready to share some entirely new experiences for users, developers and businesses, too," Pichai said. "We have a substantial opportunity in front of us with AI across our products and are prepared to approach it boldly and responsibly."
AI has recently become a critical priority at Google, which has grown alarmed over the smash success of ChatGPT, an AI-powered chatbot that has taken the world by storm. Microsoft is reportedly planning to release a ChatGPT-fueled version of its search engine Bing in what could be one of the biggest challenges to Google's search engine yet.
Alphabet is set to announce its 2022 fourth quarter earnings on Feb. 2.