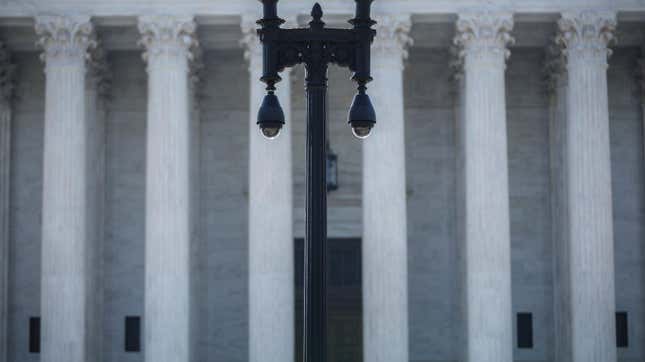 Clearview AI, the shady US facial recognition firm whose surveillance tech is used by at least 2,400 law enforcement agencies, says police have run nearly a million searches using its service. The company's database of images scraped from social media sites now reportedly numbers around 30 billion, a staggering 50% increase from figures reported just last year. Despite repeated fines and years of pushback from civil liberties organizations, the figures suggest business is still booming for Clearview.
Should Facial Recognition Technology be Banned? | Future Tech
The company's CEO, Hoan Ton-That, revealed those estimates this week in an interview with the BBC. Gizmodo was unable to confirm Ton-That's estimates so they should be taken with a heaping spoonful of salt. Still, the growing numbers show growth in Clearview's core surveillance business model even as states and local municipalities appear ever so slightly more interested in pushing forward new data privacy protections. Comprehensive federal data privacy laws, on the other hand, still look like a pipe dream.
Clearview's data collection methods have come under fire from privacy advocates who believe the company collects billions of face scans without first obtaining content. That means anyone's publicly available Facebook or Instagram selfies could, in theory, one day be used by law enforcement to connect them with a crime.
"It's appalling that a company could steal billions of our photos, but it's even worse that the police are paying them for that data," Surveillance Technology Oversight Project Executive Director Albert Fox Cahn told Gizmodo. "The police should be investigating Clearview AI for theft, not awarding it contracts. This sort of surveillance capitalism chills democracy and puts us all at risk."
Clearview did not respond to Gizmodo's request for comment.
Police feel emboldened to use Clearview
Those estimated 1 million face searches conducted by police reportedly involve a wide range of alleged crimes, ranging from murder to simple shoplifting. Speaking with the BBC, Miami's Assistant Chief of Police Armando Aguilar revealed his agency used Clearview's technology 450 times per year. Several of those searches were allegedly used to assist in murder cases. Aguilar went on to insist his agency considers the tool to be closer to an initial tip rather than a final piece of evidence.
"We don't make an arrest because an algorithm tells us to," Aguilar told the BBC. "We either put that name in a photographic line-up or we go about solving the case through traditional means."
Regardless of whether that's true, multiple wrongful arrests and jail sentences have already occurred as a result of police using Clearview's tools. Ton-That, the Clearview CEO, told the BBC he attributes those wrongful arrests to "poor policing."
New search figures suggest Clearview is doubling down on its core business—police surveillance—over previous flirtations with private business
Last year, Clearview outlined a path towards a theoretically more restricted one-to-one face match identification verification system it hoped to one day deploy in schools, banks, and other private firms. That apparent pivot came just weeks after a historic settlement with the American Civil Liberties Union which essentially barred the company from selling access to faceprints from its database to a majority of US private businesses. With its private sector business potential on shaky ground, Clearview has even more incentive to lean into its established relationships with US law enforcement.

"There's simply no justification for using public tax dollars to buy stolen private photos," Fox Cahn, who supports broad city and state bans on facial recognition technology, said. "And all too often, elected officials don't even know that this is happening."
Clearview's core business faces mounting opposition, both in the US and abroad. Around 17 US cities including Portland, Berkeley, and Oakland have passed legislation restricting government use of facial reactions. On the federal level, Democratic lawmakers have sent letters to Departments of Justice, Defense, Homeland Security, and the Interior urging them to cease using Clearview or risk undermining the notion of public anonymity as it's currently underwood. Outside of the US, Australia and Canada have taken some of the toughest stances against the company yet with the latter country essentially pressuring Clearview to retreat from its borders entirely.