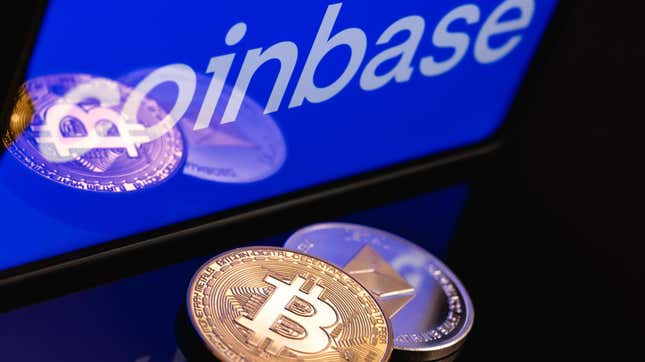 It's 2023 and financial crimes and their consequences have officially come to cryptocurrency. Relatively new on the laundry list of blockchain-based offenses that can lead directly to jail: insider trading. A former product manager at the crypto exchange Coinbase pleaded guilty to insider trading charges on Tuesday. The news comes from a Justice Department press release where prosecutors refer to the ongoing legal proceedings as the "first-ever cryptocurrency insider trading case."

Crypto Exchanges Restrict Withdrawals
Ishan Wahi, who worked at Coinbase Global, Inc. starting in 2020, is charged with two counts of conspiracy to commit wire fraud, in connection with an insider trading scheme involving his brother, Nikhil Wahi, and another associate, Sameer Ramani.
Of the three, Ishan was the sole employee of Coinbase, where he used his position to illicitly pass advanced, confidential knowledge on coin listings along to Ramani and Nikhil, according to the prosecution. Using that intel, Ramani and Nikhil would allegedly buy up cryptocurrency shares before they showed up on Coinbase. Then, when the value of each cryptocurrency inevitably skyrocketed with the legitimacy boost of a Coinbase listing, Nikhil and Ramani would sell off their shares for a profit, according to a statement from New York's Southern District Attorney. All told, the co-conspirators reportedly made more than $1.1 million through trading ahead of multiple different Coinbase announcements between June 2021 and April 2022.
"[Ishan] Wahi is the first insider to admit guilt in an insider trading case involving the cryptocurrency markets," said U.S. Attorney Damian Williams in the Tuesday statement. "Whether it occurs in the equity markets or the crypto markets, stealing confidential business information for your own personal profit or the profit of others is a serious federal crime," he added.
Nikhil was sentenced to 10 months in prison in January after filing a guilty plea in September 2022. Initially, Ishan pleaded not guilty to his charges in July, but revised that plea today—presumably after consulting with his legal team following his brother's sentencing. Though Nikhil's charges carried a possible maximum sentence of 40 years combined, his plea deal netted him less than a year. Ishan, too, faces a maximum of 40 years, but is likely to be sentenced to less than four as part of a plea deal, according to a report from Reuters. Ishan's sentencing is scheduled for May 10. Ramani, meanwhile, remains at large.
The Wahi brothers' case isn't the first time Coinbase has been at the center of questions surrounding insider trading. In 2017, the official launch of bitcoin cash (BCH) on the exchange platform was preceded by a significant and suspicious jump in the cryptocurrency's value. In response, Coinbase froze trading on BCH and launched an internal probe. Unsurprisingly, the company's investigation of itself determined that no wrongdoing had occurred. The exchange was hit with a class action lawsuit over the shady BCH incident, but the case was dismissed by a U.S. District Judge.
Yet still, miraculously lucky (i.e. hella suss) purchases persist on Coinbase. It was only through chance and some blockchain vigilante work that the Wahi brothers and Ramani ended up getting caught. 
Last year, a (then) unknown crypto wallet user invested almost half a million dollars in alternative cryptocurrencies just a few hours before those alt-coins went on to be listed on Coinbase. Jordan Fish, a podcaster and crypto pundit who goes by Twitter username "Cobie," initially noted and posted about the odd transactions. Then, Coinbase's chief security officer responded, the company issued a blogpost condemning "improper use of company information," the feds got involved, and the digital wallet was traced back to the Wahis. 
Separately from the DOJ's criminal investigation and charges, the Securities and Exchange Commission also filed its own charges against the Wahis and Ramani in July 2022. And that pending case could have implications far beyond consequences for the three men at its center. The SEC's 62-page filing designates multiple cryptocurrencies as securities. If the courts agree, such a designation might alter how cryptocurrencies are considered and regulated under the law.