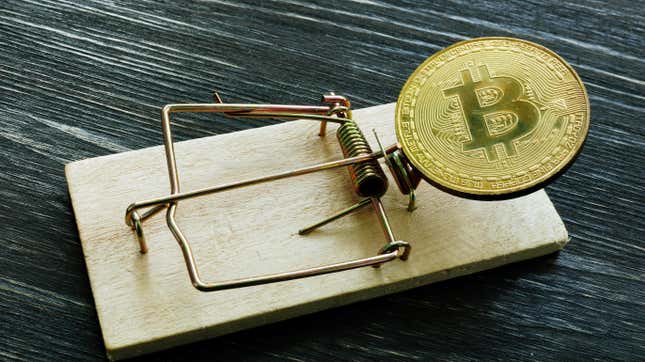 As much as the crypto industry has been pummeled over the past year, both in terms of slouching crypto prices as well as waning public opinion, scammers, hackers, and sanctioned entities still managed to make a good chunk of change in 2022.
Crypto analyst firm Chainalysis released its crime trends report for the year of 2022 Thursday. Immediately, it becomes clear that despite the ongoing crypto winter and plummeting price of digital currencies, scammers, hackers, and those dealing with sanctioned entities made out with $20.1 billion in illicit proceeds. That measure is approximately $2 billion more than 2021 and $12 billion more than 2020, according to Chanalysis' metrics.
Of course, that figure is likely to change as more scams and proceeds from illicit activity become known. The analysis firm noted that while it initially identified approximately $14 billion of crypto received by addresses tied to illicit wallets, it uncovered another $4 billion over the following months as researchers uncovered previously unknown scams.
The analysis marked that activity associated with sanctioned entities made up 44% of all the illicit transaction volume. The firm explained this was due to the U.S. Office of Foreign Asset Control, the enforcement arm of the U.S. Department of Treasury, and its crackdown on exchanges dealing with sanctioned countries. In particular, OFAC sanctioned the Russia-based exchange Garantex back in April, alleging it had been laundering money for ransomware operations.
OFAC also became a punching bag in crypto circles this past year after the agency sanctioned crypto mixer Tornado Cash, adding it to the 10 entities sanctioned by U.S. authorities.
At the same time, the amount of revenue generated from hacks, scams, and ransomware was less than last year. As noted by Chainalysis, this could be because of the declining price of crypto across the board, and they allege crypto crime makes up less than 1% of all transactions. Though declining scam profits is not indicative of the fair number of hacks that have taken place since the start of 2022. There were some major attacks like the $620 million hack of the Axie Infinity network, which has been linked to North Korea-affiliated hackers. The number of attacks on DeFi projects have also increased, especially toward the end of 2022.
Notably, Chainalysis' figures don't account for some of the most major failed operations of 2022 like Celsius and FTX, both of whom have been accused of massive fraud. Celsius is being sued by the New York Attorney General for allegedly lying about its platform's safety after the exchange lost billions of dollars in this year's crypto route. And of course, FTX's co-founder and ex-CEO Sam Bankman-Fried is facing eight counts of fraud and conspiracy for allegedly using and abusing FTX users' crypto, among other charges of campaign finance violations. You don't have to look too far to find users complaining of being drained of their life savings.
The crypto analysis firm claimed it didn't include figures from these firms because their estimates are "based solely on on-chain intelligence." Also, the lawsuits and criminal proceedings are ongoing, so while the entities and their operators have been cited for perpetrating fraud, they still have to have their day in court.