How will Jurassic World: Fallen Kingdom set the stage for a unified, Jurassic Park trilogy? Does a tongue-wagging Satan really factor into the latest season of the X-Files? See Lin Shaye finally gets top billing in an Insidious film! All this, plus a plea from Luca Guadigno kindly asking you not to compare his Suspiria remake to the iPhone X! Watch your step, you've just crossed over into Morning Spoilers!

---
Jurassic World: Fallen Kingdom
In a recent Youtube interview with Sebas Tabany, Colin Trevorrow revealed the new Jurassic Park doesn't end on a "cliffhanger," per se, but is "designed for people to want to know what's going to happen next."
At the end of this movie, it's not a cliffhanger, but it's designed for people to want to know what's going to happen next, whereas the earlier Jurassic Park movies had pretty clear definitive endings. They were much more episodic. In working with Derek Connolly, my co-writer, we were also thinking about where it was gonna go in the future.
Trevorrow also states the entire Jurassic World enterprise was conceived as a trilogy.
I remember telling Steven [Spielberg] even while we were making the first movie. 'This is the beginning. Here is the middle. And here's the end of the end.' This is where we want to go. I feel like that kind of design is crucial to a franchise like this if you really want to bring people along with you and make sure they stay interested. It needs to be thought through on that level. It can't be arbitrary, especially if we want to turn this into a character-based franchise with people who you lean in to follow what they're going to do.
---
Solo: A Star Wars Story
An ambiguously authentic promotional poster has surfaced on Licensing Russia, giving us our alleged first look at Emilia Clarke, Alden Ehrenreich's Han, and Donald Glover as Lando. However, Disney has since reached out to multiple outlets to state the poster was not created by them, and that they are mystified by its origins.
G/O Media may get a commission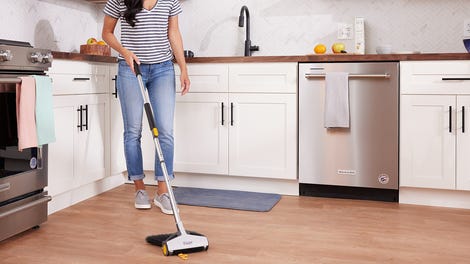 BOGO 50% Off
Flippr - BOGO 50% Off
---
Shazam!
Zachary Levi is now in Toronto and ready to begin filming.
---
Suspiria
In a recent interview with The Guardian, Luca Guadigno states its been his dream to remake Suspiria since he was fourteen years old.
Every movie I make is a step inside my teenage dreams, and Suspiria is the most remarkably precise teenage megalomaniac dream I could have had. I saw the poster when I was 11 and then I saw the film when I was 14, and it hit me hard. I immediately started to dream about making my own version of it. So in a way it makes me smile when I hear people say, "How dare you remake Suspiria. Typical commerce-driven mentality." I was just a boy who had seen a movie that made him what he became. So that's how I am approaching it: a homage to the incredible, powerful emotion I felt when I saw it.

Do you stop watching Tristan und Isolde's mise-en-scène because Patrice Chéreau's was so incredible? No, there will be a new one that will be fantastic. How many Hamlets have we experienced in our lifetimes that were fantastic? Human art is not about inventing originality, it's about finding a new point of view. Capitalism wants to tell us something new is always coming; it's not true. The iPhone X is the same as 8, 7, 6, 5, 4, 3, 2, 1. It's the great marketing qualities of Apple that make us want to buy this stuff. But it's the same! Do you need a 10 after you got the 8? You don't.
---
Insidious: The Last Key
Here's an odd collection of behind-the-scenes clips from the latest Insidious, starring Lin Shaye.
---
The Midnight Man
The film's titular ghoul manifests into a rabbit-headed man with fingerless gloves in the latest trailer from IFC Midnight.
---
Midnight Sun
Meanwhile, here's a trailer for the U.S. remake of Midnight Sun, a 2006 Japanese film about a girl suffering from xeroderma pigmentosum, a rare genetic disorder in which direct exposure to sunlight may prove fatal — but she doesn't let it stop her from recording her debut single! The 2018 version stars Bella Thorne, Patrick Schwarzenegger, and funnyman Rob Riggle.
---
Maze Runner: The Death Cure
There's a few fleeting moments of new footage in this international trailer for the final installment of the Maze Runner franchise.
---
Knightfall
Good news! History's series on the Knights Templar has already been renewed for a second season.
---
Once Upon A Time
Speaking with TV Line, co-creator Eddy Kitsis teased, "there is absolutely going to be some romance in Regina's life in the second half of the season."
---
Daredevil
Speaking with Collider, Deborah Ann Woll stated she's "really, truly, honestly" excited about working with new showrunner Erik Oleson.
He's one of the most enthusiastic showrunners that I've ever worked with. He's so excited about having this job. He's not over it. He's easy to talk to and he's very collaborative. He really understands that we've been with these characters now, for three or four years, and he's just coming into it, so he wants to hear what we think. I'm so excited for what he's gonna bring. I really, truly, honestly am. He's a true fan.
Elsewhere in the interview, Woll revealed she has high hopes for Karen in season three, which may reveal details about the character's past.
Definitely her past. We've been hinting at it, and I hope that we eventually unwrap that candy. That's cool to me. Really, my favorite thing to work on with the character is that doggedness and pushiness. Karen is pushy, and I like that. I like it in a female character because I think it's a quality that we historically have disliked in women. I think it can be a strength, as well as a weakness. It can be one of those wonderful, complex aspects of her. She won't let things go, even if it gets her hurt, or if it gets someone else hurt. She's out there, she's gonna get the truth, and she can't stop thinking about it or let it go, and she never will. That's a really fun part of her personality to play with.
The interview then concludes with the honestly very good question: "What does Karen Page want? Does she even know?"
That's an interesting question. Knowing what I know about Karen's upbringing and what we're going to do with that, I think she has ideas about what she wants, but every time she gets close to that, it's not satisfying. She wants answers and she wants the truth, but then you get it and it's not any better. It doesn't fix anything. I think that's a similarity with Frank. He can kill all these people that he thinks are responsible for his pain, but he still doesn't feel any better. That's something that they can recognize in one another. They're never satisfied. That's why it's a tricky question for Karen. She's never satisfied. It's never enough. It's never honest enough, it's never real enough, she'll never be good enough. It's a constant striving. I think she wants to make the world a better place because she's afraid that she made it a worse place.
---
Happy!
Here's a trailer for the show's return January 10th.
---
The X-Files
Mulder and Scully encounter murderous doppelgangers in the synopsis for 11x03, "Plus One", written by Chris Carter.
A spate of deaths, in which the victims were plagued by their own doppelgangers, lead Mulder and Scully to a pair of twins playing a dangerous game.
Finally, the latest trailer for season eleven features a hydrocephalic alien, evidence of parallel universes, and possibly even Satan himself!
---