This week on TreeHugger, an awesome arcade built in an auto parts shop, learn how to make your own self-balancing scooter, a great electricity-free iPad speaker design, and more!
1. Nine-Year-Old Creates Entire Arcade From Cardboard Boxes and Tape
Check out what this 9-year-old has built — an entire functioning arcade, complete with "fun passes" and an inventory of prizes. Pretty awesome.
2. "Amplifiear" Electricity-Free Snap-On Speaker Design for iPads Boost The Volume
This smart, simple design boosts the sound coming from your iPad, so watching videos or listening to music is much more enjoyable.
3. Wind Turbine Makes 1,000 Liters of Clean Water a Day in the Desert
A wind turbine prototype being tested in Abu Dhabi produces clean water by using a built-in compressor to condense water from the air.
4. How to Build a Self-Balancing Electric Scooter
A fun DIY project gives you instuctions to build your very own self-balancing, electric-powered scooter.
G/O Media may get a commission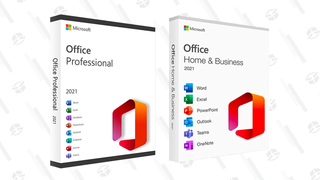 89% off
Microsoft Office Professional 2021 Lifetime License
5. Ultra-Accurate Microchip for Cell Phones Knows Your Location Within Centimeters
This new cell phone chip might be freaky for those who like privacy, but it could be a boon for environmental scientists.
6. Smart Sensors to Help Monitor Effectiveness of Water Filters and Cookstoves in Rwanda
An effort to provide water filters and cookstoves to households in Rwanda will be improved by analyzing data sent from mobile smart sensors.
7. Watch How an iPad is Made at Foxconn (Video), New Report Delivers More Balanced View on Worker Conditions
American Public Media's Marketplace sent a reporter to the Foxconn factory in Shenzhen, China. He came back with a report and this exclusive video of an iPad being made.
8. Camping Gets Fancy Via Solar Power Concept
If you want to camp in style and without straying far from a power source, this might be the design for you.
9. Game On: How to Fix 3 Common Game Console Problems
If you play video games, you probably know the feeling: the disc jams, the friendly green lights turn red, the screen goes suddenly and disconcertingly dark.
10. Israeli Company Wants to Make Paper From Your Poo
In the world of recycled paper, there remains a previously overlooked source of pulp that's literally being flushed down the toilet every day. (Hint: It's feces.)