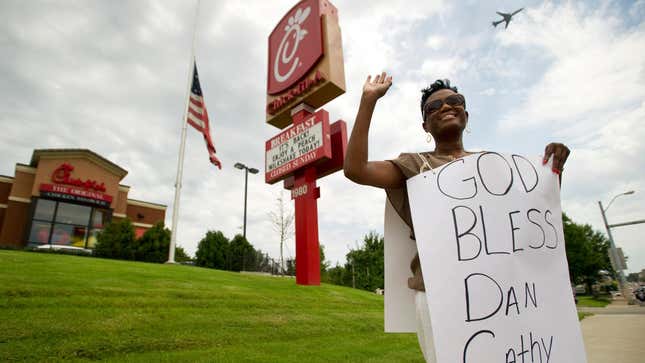 If you thought last month's Twitter meltdown over a non-existent gas stove ban would be the strangest part of the 2023 culture wars… you are sadly wrong. Many tweeters are now angry at the beloved Christian conservative chicken chain Chick-fil-A for testing out a "plant-forward" alternative product.

This Thursday, the chain unveiled a breaded cauliflower sandwich. Starting on Monday, February 13, Chick-fil-A will test the new menu item in three markets; Denver, Charleston, S.C., and North Carolina's Greensboro-Triad region.
"Cauliflower is the hero of our new sandwich, and it was inspired by our original Chick-fil-A Chicken Sandwich," Leslie Neslage, the director of menu and packaging at Chick-fil-A said in a statement. "Guests told us they wanted to add more vegetables into their diets, and they wanted a plant-forward entrée that tasted uniquely Chick-fil-A. Our new sandwich is made with the highest quality ingredients and whole vegetables, and we hope it offers customers another reason to dine at Chick-fil-A."
But a plant-based menu item (much like an induction stove) is a little too woke for some of the chain's loyal customers The Tweet announcing the new menu item went live on Thursday. As of today the tweet has garnered about 3.5 million views and the comments have been disabled. The post was also rationed with more than 2,000 quote tweets, and about 1,400 likes. The press release announcing the new menu item linked to the tweet opens up a "site can't be reached" page. The company's press-room section is also unavailable at the moment.
The quote tweets were a barrage of people angry at the company for messing around with their Jesus Chicken. Maybe the backlash has been because anything deemed eco-friendly is too "woke." Or because the cauliflower sandwich has sparked memories of Fox News warning Americans that Sleepy Joe was coming for their hamburgers. But whatever the reason, many tweeters are not happy.
Some of these tweets seem like they're parodies of tweets from people who are actually upset about the vegetable addition to the Chick-fil-A menu. And some seem genuine. Here are some highlights: