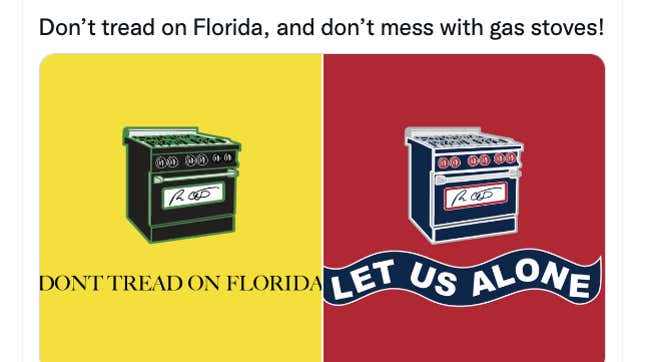 A swift turnaround from the U.S. Consumer Product Safety Commission gave the media whiplash earlier this week. On Monday, a commissioner from the watchdog agency, Richard Trumka Jr., indicated CPSC was considering new restrictions on gas stoves over mounting health concerns.

Then, after an overwrought backlash mainly from the political right, the federal regulator backed off. "I am not looking to ban gas stoves and the CPSC has no proceeding to do so," Alexander Hoehn-Saric, CPSC's chair, wrote in a tweeted statement. Trumka, too, clarified that any CPSC action wouldn't impact existing stoves, just new products.
But the damage was done. Overnight, gas stoves became symbol of possible government overreach. (Mostly) Republican politicians took to Twitter to voice their outrage and opposition to the idea of the feds dictating anything about household appliances. And those reactions, diatribes, and posts are still coming—despite the CPSC saying it, again, is not planning to ban gas stoves.
Why the debate?
About 40 million U.S. households currently have gas stoves. However, scientists have long warned that gas-fueled appliances can create unhealthy levels of indoor air pollution—leaking nitrogen dioxide, carbon monoxide, methane, and benzene into peoples' homes. Research has linked gas stoves to heart disease and cancer. And one recent study estimated that more than one-fifth of all childhood asthma cases are caused by gas stoves.
In addition to the health downsides, the appliances are also pretty awful for the environment. If you haven't guessed already, the "gas" in gas stoves means "natural gas," i.e. methane—the greenhouse gas more than 25 times more potent than carbon dioxide. The appliances have an estimated annual climate impact equivalent to that of 500,000 gas-powered cars, according to one 2022 study. And in response, Berkeley, California, New York City, and dozens of other municipalities have passed legislations to restrict gas hook-ups in future buildings.
But because gas stoves run on fossil fuel, the fossil fuel industry has worked hard to ensure the appliances remain popular, going as far as paying influencers and industry groups to sing their praises, as well as pouring money into political campaigns and lobbying efforts.
Although many legislators have framed their opposition to "banning" gas stoves as one based in belief in personal freedom and the need for U.S. energy independence, remember that fossil fuel companies spend tens of millions of dollars every year on election campaigns.
Here are some of the most notable, stupidest, and outright strangest of the (often fossil-funded) responses to the gas stove ban that wasn't.