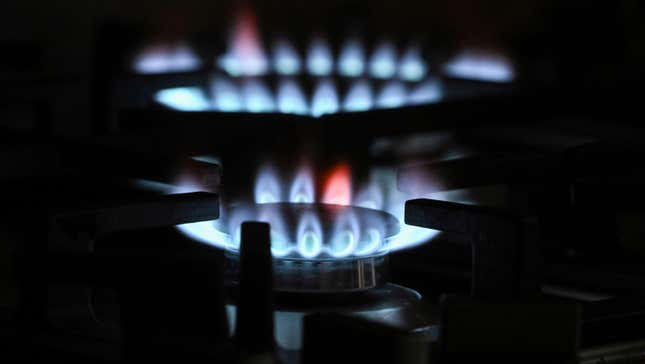 The U.S. government is not considering banning gas stoves, a consumer safety agency said, days after one of its commissioners suggested to the press that a ban could be on the table.

Republicans Create Culture War Over… Stoves
In a statement issued on Twitter Tuesday, the chair of the Consumer Product Safety Commission, Alexander Hoehn-Saric, said that while the Commission is researching the impact of gas stoves and working to make the appliances safer, it has no plans to ban them outright.
"Research indicates that emissions from gas stoves can be hazardous, and the CPSC is looking for ways to reduce related indoor air quality hazards," Hoehn-Saric said. "But to be clear, I am not looking to ban gas stoves and the CPSC has no proceeding to do so."
Hoehn-Saric's statement came on the heels of a backlash against quotes from Richard Trumka, Jr., a commissioner at the CPSC, published in a report in Bloomberg on Monday.
"This is a hidden hazard," Trumka told Bloomberg. "Any option is on the table. Products that can't be made safe can be banned."
More than a third of U.S. households currently have gas stoves, and their use has been linked to a mounting list of health issues, from cancer to heart problems. A study published last month found that gas stoves may be responsible for one in eight cases of childhood asthma in the U.S.
After Bloomberg published its piece, the political conversation over gas stoves reached a fever pitch. Politicians from both sides of the aisle weighed in on a possible ban—with Republicans seizing the moment to paint Democrats as ruthlessly overreaching into Americans' personal lives and to become weirdly obsessed with cooking techniques, all of a sudden.
"If you know ANYTHING about cooking, there is nothing like cooking on a gas stove," Congressman Byron Donalds of Florida tweeted. "Democrats want to ban gas stoves. Republicans want to LEAVE YOU ALONE."
Senator Ted Cruz, meanwhile, retweeted a photo of Jill Biden cooking on a gas stovetop in 2020, with the caption "Rules for thee but not for me."
Even supposed Democrat Joe Manchin joined the pile-on. "This is a recipe for disaster," he tweeted Tuesday. "The federal government has no business telling American families how to cook their dinner. I can tell you the last thing that would ever leave my house is the gas stove that we cook on."

Trumka clarified in a tweet on Monday that a potential ban would only impact new products, not existing ones.