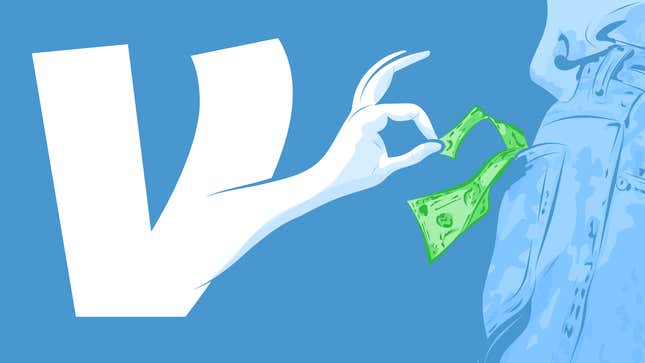 The PayPal-owned app Venmo has grown tremendously in the past couple of years as a way to share money between friends. But as with all financial services, consumers have had a few complaints, according to documents recently obtained by Gizmodo.

Giving Optimus Prime a Proper Back Story | io9 Interview
I received the complaints through a Freedom of Information Act request filed with the Federal Trade Commission (FTC), and they show two recurring themes, the first being people who get screwed out of money because they accepted payment from someone they didn't know. More often than not, these people were selling something online (like through Craiglist) and the person they didn't know used a stolen credit card. Venmo is very explicit in its terms that you should never use Venmo with someone you don't know. If the credit card gets declined after you part ways, you're out of luck.
The second theme that pops up in the complaints is more peculiar. It seems that people who have never had accounts with Venmo have reported randomly seeing withdrawals from their checking and savings accounts for amounts just under $3,000. The FTC has anonymized the complaints so we're unable to reach out to the people making the allegations. But the complaints seemed consistent enough to note. Venmo currently limits the amount for sending payments to $2,999.99.
I asked a Venmo spokesperson over the phone if they'd noticed any pattern or why there might be these charges for just under $3,000. They said that they couldn't comment on individual complaints. They also couldn't tell me how a person who hadn't signed up for an account could possibly be charged.
"The security of our users and their money is a top priority," a spokesperson told me a few days later over email. "If there is ever a situation where a question is raised, Venmo works quickly to address any concerns that are brought to our attention. Our users are the focus of everything we do and our goal is to ensure they always have a positive experience when using Venmo."
I've included a few of these complaint below. Have you had any strange mystery charges that appear to be from Venmo that were just under $3,000? Obviously filing a complaint with the FTC is an irregular step, so we imagine that there might be more people out there who have had this happen to them. If that's you, we'd like to hear about it.
March 2015 in Virginia:
Someone transferred $2,999.99 from my Wells Fargo Checking account. Transaction information: VENMOPAYMENT [redacted]. I have opened a Fraud Claim with Wells Fargo. That number is [redacted]. Due to the large amount of money involved, they requested I open a case with the police.
September 2015 in Florida:
I am very frustrated in trying to get this problem resolved. Venmo (division of PayPal?) and Wells Fargo are involved and have been no help and I need answers quickly. This problem involves a large fraudulent withdrawal from my Wells Fargo account by/thru Venmo. There was an unauthorized withdrawal of $ 2,999.99 from my business account on 9/3/2015. The company that took/transferred the money is Venmo. I even know where the money went and am being told by Wells Fargo, that there is nothing they can do. Wells Fargo went as far as to tell me that since I reported it beyond the 24 hour threshold, I forfeited my chance to dispute it. Venmo does not accept phone calls and will only communicate via emails. I want to be clear, I never had a Venmo account, I never purchased anything anywhere near this amount that I an trying to return. This is theft!
November 2015 in Florida:
The consumer states that a company called Venmo debited his Bank of America checking account in the amount of $2850 for an unknown reason. The consumer has never had any contact with this company and does not know why they charged him. The consumer feels it could be a scam.
November 2015 in Massachusetts:
I do not subscribe to Venmo ( a subsidiary of Paypal) which apparently is a phone app that can transfer money from your atm account to a friend's account. Never been involved with this company or app. On 11/13 , they stole $2578 from my TD Banknorth checking account thru my ATM card. I have gone to my bank and destroyed that card. Both yesterday and today, they continue to try to get money from my account thru my no longer active atm number. FRAUD, FRAUD, FRAUD. Please don't let them do business in MA!!
The complaints total just 42, which is relatively few, and deal with a wide variety of issues. But this mystery $3,000 withdrawal from people who claimed to have never used the service is by far the weirdest. There are also some complaints for unspecified amounts and smaller amounts ($850 in one case). Again, if you have had your own problems with fraudulent activity on Venmo, we'd like to hear from you.