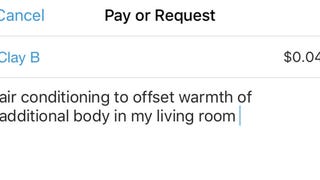 It was only a matter of time before spam came to Venmo and, frankly, it's astonishing that it took so long to figure out the marketing secret: You can message anyone on Venmo, so long as you send them as little as one cent.

If you need to send money to a friend, Venmo makes life incredibly easy. The peer-to-peer payment app is a great tool to make sure everyone gets you back for pizza and beer. Unfortunately, it also gives scammers a great opportunity, because it's not set up to help people get their money back when fraud occurs.
Do you like Venmo? Then you're going to love PayPal.me, a new Venmo-like payment platform by PayPal, Venmo's parent company. It works a lot like Venmo except, you know, it's PayPal instead.
Venmo is a great way to ditch your wallet or buy drugs with your smartphone. Part of the fun is the simple fact that the app's social networking features allows you to publicly shame your friends spending habits with emoji. The most popular emoji used on Venmo, by the way, is pizza—by a landslide.
Facebook Messenger has a friend-to-friend payment feature in the works, and it's already set up in the app. It's just not turned on for the general public.
You don't have a Nexus S 4G, or Sprint or the Citi Mastercard required for Google Wallet. But that doesn't you mean you don't wanna live in the future, using your phone to pay for stuff. Here's how to do that right now, no matter what phone you've got.