Get a look at Lin-Manuel Miranda on the set of Mary Poppins Returns. Todd McFarlane is still talking about his Spawn movie plans. Iron Fist's costume designer discusses the challenge of bringing the comic book costume to life. Plus, a tiny snippet of The Flash and Supergirl musical crossover, and a new clip from Star Wars Rebels. Spoilers, ho!

Justice League
Resident superhero speculator Umberto Gonzalez recently took to Periscope to claim that Darkseid does indeed appear in Justice League—but the character won't be a speaking role, and his presence is "felt" throughout but otherwise strictly behind-the-scenes of the film's wider events.
Gonzalez prefaced that his confidence in the news was not as strong as his typical reporting—hence airing it on social media rather than on The Wrap—so take it with a pinch of salt. But considering Steppenwolf, a lieutenant of Darkseid, is the main bad guy of the film, at least a teaser-y cameo appearance isn't too surprising.
---
Mary Poppins Returns
New set pictures from filming have emerged, giving us our first look at Lin-Manuel Miranda in costume as Jack the street lamplighter.
G/O Media may get a commission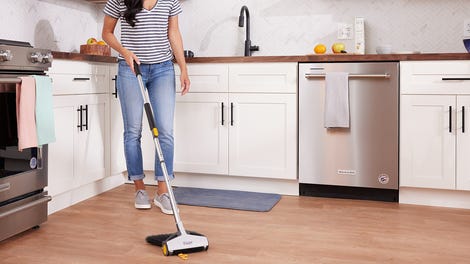 BOGO 50% Off
Flippr - BOGO 50% Off
---
Jurassic World
Director J.A. Bayona revealed on Twitter that his frequent collaborator Geraldine Chaplin has joined the cast.
---
Mortal Engines
Three more actors have joined Peter Jackson's Mortal Engines. South Korean singer and actress Jihae will play Anna Fang, "a member of the violent league that fights against the mobile cities," Leia George (Mother, May I Sleep With Danger?) has been cast as Katherine Valentine, "the daughter of one of the most powerful men in London society and one who is trying to get his hands on a weapon of mass destruction," and Avatar's Stephen Lang has also been cast in an undisclosed role. [THR]
---
Spawn
Todd McFarlane took to the stage at Emerald City Comic Con to discuss the long-gestating Spawn reboot... insisting that, yes, after all these years of him talking about it, it's still in the works.
Listen, I'm going to paint it for you. The movie is going to be a dark R…If here's PG-13 and here's Deadpool and here's Logan, we're going to be here. It's going to be dark. It's going to be nasty.
Please look forward to the next update on the Spawn reboot sometime in 2023. [Movie Web]

---
Meg
The killer Megalodon movie starring Jason Statham has been pushed back five more months. Its new release date is August 10, 2018. [EW]
---
Stranger Things
Unsurprisingly, Netflix CCO Ted Sarandos is full of praise for the second season's premiere:
I have just seen the first episode of season two, it's fantastic—it delivers on everything that every fan wants. We have a sense that it's going to be really big. The reaction and momentum in Netflix internally is building.
[NME via Digital Spy]

---
Iron Fist
Costume designer Stephanie Maslansky discusses the challenges of bringing Danny Rand's costume to life:
[T]he most unusual-looking character so far, has been the Iron Fist. But there are different illustrations of the Iron Fist. There are some that look very militaristic, kind of cool and edgy. The earlier illustrations have an incredibly seventies vibe. And there's a look when he wears cargo pants and a tight shirt, with the emblem emblazoned on the shirt. We did something like that, not with the shirt but with the tattoo on his chest. But I drew my inspiration from the classic look, mostly.
[Forbes]
---
The Flash
DC Comics revealed that David Dastmalchian (The Dark Knight, Gotham) has been cast as Abra Kadabra, that time-traveling criminal from the future who uses mind-boggling technology to become a magician in the past. The press release goes on to say that Abra Kadabra "holds a secret the Flash will stop at nothing to uncover" when he appears.
Here's a blurry, brief look at "Duet," the Supergirl crossover episode that also happens to be a musical. Sadly, no singing to be heard in this snippet.
---
Riverdale
Archie Comics' Chief Creative Officer, Roberto Aguirre-Sacasa, revealed there will be a major arch-villain in season two at the Coast-to-Coast Comic-Con:
We'll be teasing in the big bad for season 2. It's someone who has long, deep ties to the Archie universe. It's definitely a character people know. I think it's a character that people won't see coming.
---
American Gods
Vanity Fair has revealed the first look at Orlando Jones' Mr. Nancy, the humanoid persona of the African trickster god Anansi from the novel.
---
Arrow
Episode 20 of the season is titled "Underneath."
Meanwhile, Prometheus and Anatoly get all up in Oliver's grill in the synopsis for episode 17, "Kapiushion"—the Russian word for "hood."
Prometheus (Josh Segarra) goes to great lengths to break Oliver (Stephen Amell). Meanwhile, in the flashbacks, Anatoly (guest star David Nykl) becomes worried about Oliver's increasingly violent tendencies, which come to a head in a brutal confrontation.
---
Grimm
Here's the synopsis for the series finale of Grimm, appropriately titled "The End."
SERIES FINALE - NICK MUST LOOK TO HIS ANCESTORS FOR STRENGTH TO SAVE THE WORLD FROM A TERRIFYING END - JACQUELINE TOBONI, HANNAH R. LOYD AND WIL TRAVAL GUEST STAR

Nick (David Giuntoli) faces off against his greatest foe yet as it seems no weapon can defeat him. At the Spice Shop, Monroe (Silas Weir Mitchell), Rosalee (Bree Turner) and Eve (Bitsie Tulloch) search for answers and stumble upon a rare potion that may help the fight. Elsewhere, Capt. Renard (Sasha Roiz) and Adalind (Claire Coffee) try to keep Diana (Hannah R. Loyd) and baby Kelly safe as the threat has its eyes set on the children.

Russell Hornsby and Reggie Lee also star.
---
Star Wars Rebels
Finally, Chopper starts acting weird upon returning from an infiltration mission behind enemy lines in a clip from this week's episode, "Double Agent Droid."


---
Additional reporting by Gordon Jackson. Banner art by Jim Cooke.