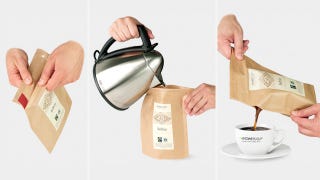 The Grower's Cup coffee maker is billed as a hybrid between a filter dripmaker and a french press, except that it's more portable than both of those options, and is also completely disposable. Which makes it easier to carry and use during camping trips, or during any emergency that can be resolved with a tasty cup of joe.
The waterproof polyethylene-coated paper bag comes with 25 grams of ground coffee inside (available in different flavors) and to brew a single cup you simply open the bag from the top, pour in half a liter of boiling water, and then pour out your dose of caffeine through a spout on the side. Because of where the filter and coffee are positioned, the brew doesn't touch the grounds while it's 'percolating' so it doesn't have the chance to get bitter. And the specially designed filter supposedly works like a French Press to preserve the coffee's oils, flavor, and aroma.
The Grower's Cup pouches aren't available in the US just yet, but they are in parts of Europe and currently sell for just under $4. So they're comparable in price to a fancy Starbuck's coffee, except you'll be hard pressed (as it were) to find a coffee shop if you're roughing it deep in the woods.
[Grower's Cup via OhGizmo! via Gear Patrol]