Showrunner Steven Moffat has made it clear that he's already making plans for at least some of Doctor Who's episodes in 2015 — but speculation as to who might replace him continues to spread. And one surprising candidate has seemed to fuel the speculation, with a series of confusing tweets. Update: Comments from Horowitz himself.
Top image: ElijahVD
Anthony Horowitz is the author of the bestselling Alex Rider books, and also has written for television and movies, including Crime Traveler, Collision, Injustice and Foyle's War. (He also tweeted the other day that he's writing a Disney movie script, but it's unclear what that is.) Horowitz was first raised as a possible new Who head writer by Philip Morris, the man who found the previously missing episodes of two 1960s Doctor Who stories, "Enemy of the World" and "Web of Fear." This came as part of a longer post on Facebook voicing Morris' criticisms of Moffat's tenure on Doctor Who, which appears not to be online any more — but you can read about it at Bleeding Cool.
Morris isn't particularly an insider among the current production team on Doctor Who, and his notions of who might be next in line to take over Moffat's job aren't particularly probative. (And meanwhile, rumors that Morris is sitting on more missing Who episodes due to his dislike of Moffat also deserve some grains of salt.) But since then, Horowitz has first denied and then seemed to encourage the speculation, with a series of tweets.
In a nutshell, he first tweeted that it was "unlikely," then that it was "interesting," and then "Who knows" if there was any truth to it. And finally, that it's "not certain" that he's actually been offered the job. (If anybody would know, you'd think it would be Horowitz himself.)
G/O Media may get a commission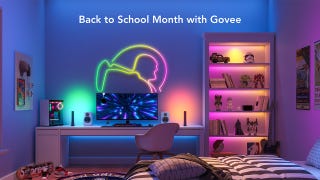 Back to School
Back to School Month with Govee Sale
All in all, it seems unlikely that Moffat is leaving before he's ready, or that this is anything more than Horowitz being coy. I almost didn't write about this at all, but given Horowitz's last couple tweets, it seemed at least worth mentioning. I reached out to the BBC, and also to Horowitz and Morris, and we'll see if we hear back. But for now, this is very much a rumor.
UPDATE: We managed to get in touch with Horowitz directly, and he responds: "I'm afraid there is no truth in the rumour." He adds: "I have watched Doctor Who since I was a boy — favourite doctor was Tom Baker. I haven't seen the new series as I'm abroad." So there you have it. Nothing to see here. [Digital Spy and Bleeding Cool]